Thanksgiving-Inspired Dishes Your Menu Needs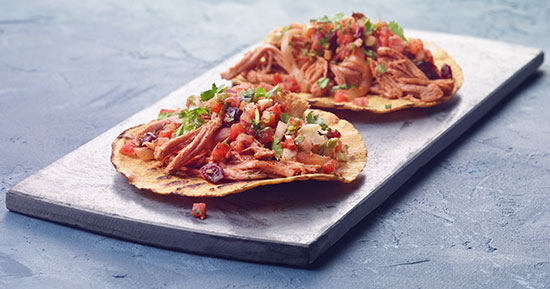 As Thanksgiving approaches, it's time to add some seasonal flair to your menu. There are plenty of ways to bring the star protein to your Turkey Day creations besides using a whole bird. This holiday and beyond, give patrons what they're looking for with culinary inspiration from Butterball.
Check out these festive recipes to serve in your operation:
Thanksgiving Fiesta Taco: Reintroduce Thanksgiving favorites in a fresh format. With crispy stuffing, cranberry pico de gallo and a spicy, adobe-chile turkey tinga folded in a tortilla wrap, you can menu a cultural medley that nods to America's melting pot.
White Turkey Burger with Cranberry Chili Chutney: Cranberry sauce is a Thanksgiving staple, and it takes on flavor and heat in this recipe. Dazzle patrons with a turkey burger featuring white cheddar cheese, spicy mayo and a house-made cranberry chili chutney relish.
Turkey Filet Sandwich: Diners can get a full Thanksgiving spread in a sweet sandwich. Start with whole wheat artisanal bread and build flavor by adding grilled turkey filet, mayonnaise, cranberry sauce, stuffing and fresh greens. The result? A holiday feast for one.
Sunny Cranberry Turkey Sandwich: For K-12 operators who want to bring the spirit of Turkey Day to their menus, consider this turkey sandwich with cranberry cream cheese and sunflower seeds. It also makes a terrific grab n' go option in schools that pivoted to online learning.

No matter how your customers are dining for the holidays this year, serving a variety of Thanksgiving flavors can get them in the spirit. Bringing a bit of imagination to your seasonal offerings is a sure way to add cheer and comfort to the season.

What's on your menu for Thanksgiving? We're interested in hearing about it on Facebook or LinkedIn. For more ideas and how-tos, check out our Tips page.