5 Versatile Ways to Menu Turkey Breast
January 2021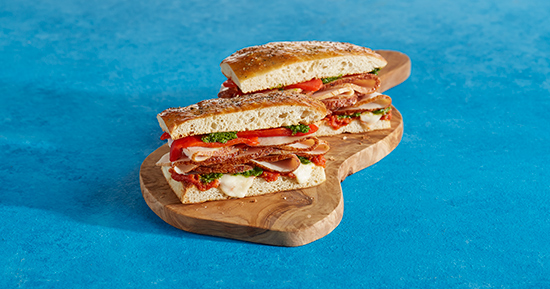 Given the current landscape, it's important to have products that can be used in a variety of ways. Operators can cut extra costs, streamline their menus and maximize inventory with the right ingredient—the trick is finding one that's also a hit with patrons.
When it comes to turkey in general, diners recognize its flexibility and consider it a good replacement for other proteins, particularly chicken breast. More than 60% say turkey, as a lean, healthy protein, can be used in place of chicken breast, and 60% say the same about using it in place of ground beef, while 54% say the same for swapping out ham.
Butterball's cooked breast products are easily interchangeable with one another. If a recipe calls for browned-in-oil turkey breast, for instance, chefs can use just about any other Butterball breast product.
In fact, here are five unique ways to use Butterball turkey breast across all dayparts and menu parts:
For the early birds: Nearly 70% of consumers say that they see themselves eating a turkey product for breakfast. This Turkey Quinoa Breakfast Bowl is full of better-for-you ingredients, such as honey maple turkey breast, spinach, sliced avocados, kale and quinoa. It's sure to fuel diners for a busy morning.
For the snackers: These Loaded Turkey Nachos with Tajin Crema are the perfect shareable or appetizer that will not disappoint fans of the Mexican favorite. Featuring a turkey twist and layers of shredded cheese, sweet potatoes and more, they're finished off with a drizzle of Tajin chile-lime seasoning mixed with Mexican crema. These nachos make an especially irresistible offering on game days.
For fans of the tried-and-true: Sandwiches are a time-honored tradition, and this Turkey Sandwich Italiano highlights another classic—Italian flavors. Turkey breast consistently shines in carving stations and thick-sliced, premium sandwiches, and 63% want to see turkey sandwiches more often when eating out.
For Asian food enthusiasts: Turkey is a great canvas for Asian flavors too, like these Turkey Summer Rolls, which operators can serve as a gluten-free side or appetizer. While other proteins are traditionally used in summer rolls, 60% of consumers say turkey can be used in ethnic cuisines in place of chicken, 54% say the same about using it in place of ground beef and 46% say the same about replacing pork with it.
For the healthy eaters: With this Mesquite Smoked Turkey and Red Quinoa Sedona Salad as an entrée, diners can still be mindful of their health goals while enjoying the delights of the Southwest. More than 60% of consumers believe that turkey provides all of the health benefits they find important in proteins. With turkey, diners can indulge in a lighter way without sacrificing flavor.
When looking for better-for-you options, core turkey foodservice consumers say they are more likely to choose turkey if the restaurant carries the Butterball brand. Our cooked breasts are made from only breast meat and can be featured across multiple dayparts in a variety of crowd-pleasing dishes. Operators can explore even more ways turkey can be used to satisfy all kinds of cravings.
How do you menu turkey breast? Inspire us with your ideas on Facebook or LinkedIn. If you're interested in more content like this, browse our Resource Center.
SOURCE
The Importance of Turkey in Food Away from Home, Butterball, 2019.