Breakfast Brings the Heat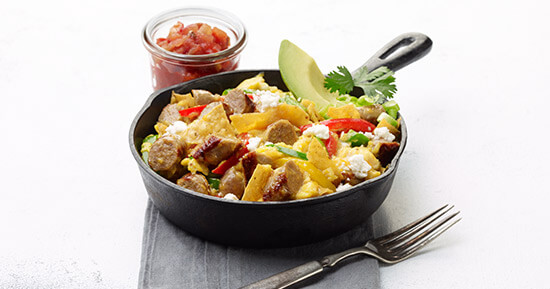 Until recently, consumers have been inclined to choose mild, familiar flavors for the first meal of the day. Today, more than half of Americans prefer spicy foods, and many are looking for ethnic dishes on the breakfast menu.
It's easy to offer a delicious combination of the two trends—spicy and ethnic—by creating a variety of Latin-inspired options. Use these tips to start crafting on-trend breakfast menus today:
Hotter is better, as spicier flavors are moving into the mainstream. In the past two years, many operations have been adding spice to their menus with jalapeños, poblanos and habaneros. Even the legendary ghost pepper, four-hundred times hotter than the tabasco pepper, is beginning to increase in popularity. Adding spice to the menu is
easy—prepare Migas with Breakfast Turkey Sausage and serve with a side of spicy
salsa made with poblano chilies and fire-roasted corn.
Bring on the burritos. Breakfast burritos are menued by almost 13% more operators today than four years ago. Keep up with the trend by implementing a create-your-own burrito menu. Allow diners to choose their own protein, like turkey sausage or turkey bacon. Add an option of scrambled eggs or egg whites, along with hash browns and a variety of cheeses. Be sure to offer a selection of spicy add-ons, like salsas and diced peppers with different levels of heat.
Tackle the taco trend. Tacos are a Latin-inspired breakfast favorite, and a natural for incorporating spicier flavors. Try this recipe for Turkey Breakfast Tacos, featuring taco filling made with shredded turkey pot roast, ancho chili purée, enchilada sauce, jalapeños and more.
Diners are loving Latin flavors, and there are many ways to add them to your a.m. lineup. Find more E-Z Menu Ideas and explore our Culinary Center for inspiration.
SOURCES
Food Trucks, Nuanced Ethnic Flavors Make Their Mark on Breakfast, Food Navigator, February 2014.
Kick It Up a Notch: Hot, Spicy Menu Items Gaining Popularity Among Diners, QSR, February 2014.
Latin Breakfasts: Que Es Para El Desayuno? (What's for Breakfast?), American Egg Board.
Slideshow: The Next Big Menu Trends, Food Business News, June 2014.