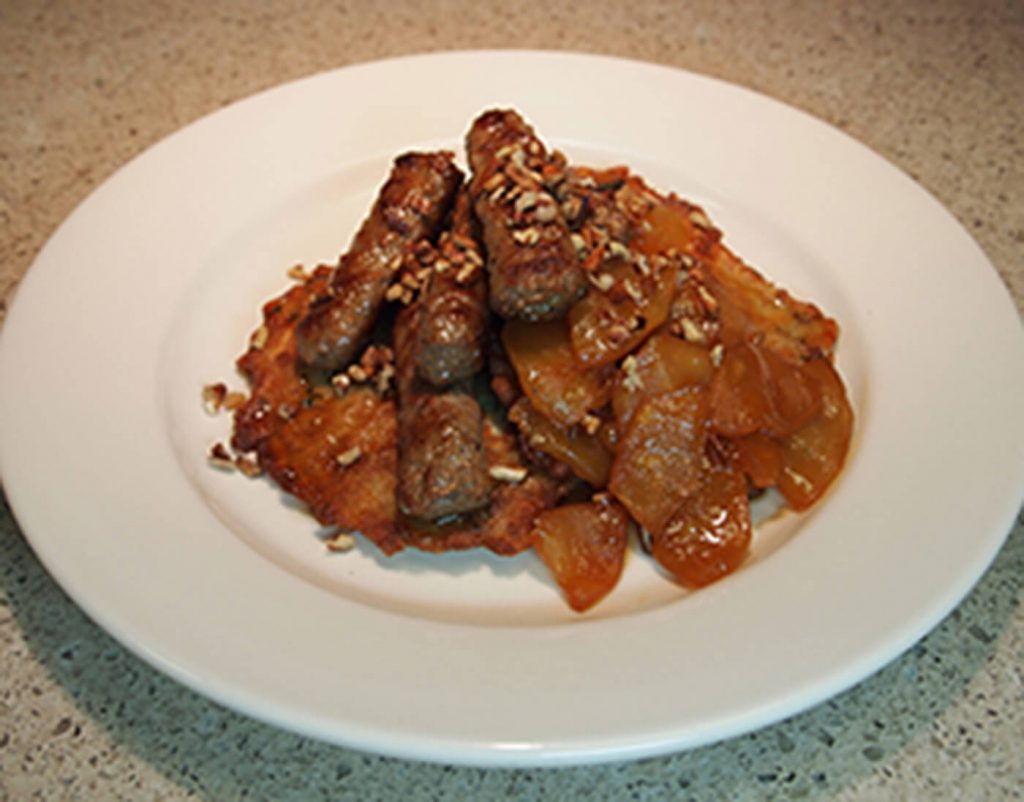 Turkey Breakfast Sausage Over Potato Pancakes with Sautéed Apples
Ingredients
Hot and crisp potato pancakes*
Breakfast turkey sausage links (golden brown & hot)
Directions
1.

Shingle together the hot potato pancakes in the center of the plate.

2.

Place hot sautéed apples over 1/3 of the potato pancakes.

3.

Arrange the breakfast sausage links over the top.

4.

Sprinkle with the chopped pecans and drizzle with hot maple syrup.

4.

Serve.
Ingredients
*Potato Pancakes
Vidalia onion, peeled & cored
Directions
1.

Peel the potatoes and hold in cold water.

2.

Using a food processor, grate the potatoes and onion and place them into a sieve; lightly press out as much liquid as possible.

3.

Place the drained potatoes and onions into a mixing bowl and blend in the remaining ingredients (except for the vegetable oil).

4.

Heat a cast iron or heavy-duty sauté pan with a light coating of oil. Place ¼ cup of potato pancake mixture into the hot skillet and flatten down the mixture. Fry to a golden brown on each side (about 2–3 minutes per side). Potato pancakes may be kept warm in a 300°F oven. Place on a sheet pan lined with 2 layers of paper towels.
Get All Things Butterball Delivered to Your Inbox
Find Your Broker