Waking Guests up with New Breakfast Choices
June 2021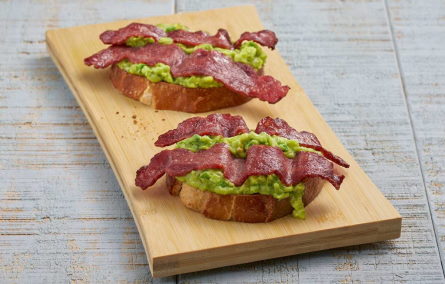 By forcing consumers to hunker down, the pandemic has taken a big bite out of foodservice breakfast occasions. In April of 2020, the sharp decline of hungry commuters, ravenous road trippers and feasting family vacationers translated to a 35% decline in quick-service restaurant breakfast orders. Since then, however, things have been looking up, with QSR breakfast orders down just 14% on the year ending in December.
Now is a great time to optimize your breakfast offerings, as "the most important meal of the day" wakes up again and offers serious sales potential. Including turkey on your breakfast menu is a quick and easy way to align with the latest consumer preferences, while also ensuring that you're providing crave-worthy, filling choices.
37% of consumers are most likely to order turkey as their breakfast sandwich protein. This is up from 30% in 2018. Make the decision a no-brainer for your guests with irresistible, mouthwatering choices like this Taverna Breakfast Panini.
Serving millennial diners? 72% of this demographic see themselves eating turkey at breakfast. Tap into their sense of adventure with these Mexican-style Turkey Sausage Migas, which offer a little heat and a lot of fresh flavors.
If you're considering offering lighter, leaner options during the morning rush, you'll find confidence in the fact that 85% of consumers say that turkey as a lean, healthy protein may be used in place of pork sausage and bacon. Even more importantly, 53% agree it is important for restaurants to offer these turkey-based substitutes. And speaking of lighter fare, avocado toast grew 88% between 2017 and 2019 and continues to lead in growth on breakfast menus. Meet the demand and exceed expectations with this perfectly portable and on-trend Turkey Bacon Avocado Toast. Lastly, for more ideas catered to those who are aiming to eat healthier, check out our article on attracting health-conscious diners.
How have you gotten creative in attracting more guests for breakfast? Share your thoughts on our Facebook or LinkedIn page. And for more insights and ideas, visit our Resource Center.
SOURCES:
Center of the Plate: Poultry, Technomic, 2021.
Center of the Plate: Sandwiches, Technomic, 2020.
Glazer, Fern. The breakfast daypart is reawakening, Nation's Restaurant News, February 2021.
The Importance of Turkey in Food Away From Home, Butterball, 2019.
Technomic Ignite menu data (top 500 chains Q4 2017-Q4 2019).