Give Kids' Menus a Healthy Boost with Turkey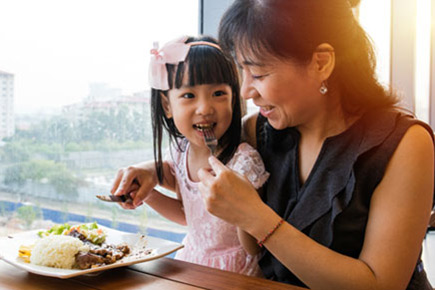 Restaurant operators looking to attract more families know the importance of developing a children's menu that satisfies both parents and kids. While kids want simple and tasty dishes, parents want to see options that provide health benefits. Lucky for everyone, turkey's many functional benefits check all the boxes for a healthy protein to include on children's menus.
Leaning Into Protein
The Dietary Guidelines for Americans (DGA) recommends introducing sources of lean protein into babies' diets when they're ready to eat solid food, as early as six months. This developmental stage, between six months and two years, is critical in establishing healthy eating patterns and is an excellent time to start incorporating more nutrient-dense foods.
Turkey is the perfect protein to feed young children for reasons beyond its great flavor and protein content. The DGA identifies iron and zinc as two nutrients crucial to child development after six months, and turkey is a source of both. It's also packed with vitamins, minerals and powerful antioxidant properties that help remove toxins and harmful substances from the body, which helps strengthen developing immune systems. And finally, because turkey contains no coarse fibers, it's easily digestible, making it a safe choice even for sensitive stomachs.
Kids and their parents will be pleased to see turkey on children's menus, as it offers multifaceted benefits and a taste kids love. And since turkey is delicious in a range of recipes, even picky eaters can find a wholesome dish they like.
Nutritious Inspiration
Turkey is a versatile ingredient and a tasty choice of protein in dishes like this fun and flavorful Turkey Sausage & Fries Breakfast Burrito or Quesadilla. Kids will also love this comforting Turkey Pot Pie Soup with Biscuit, featuring an array of vegetables and turkey tenderloin medallions. Even go-to kid favorites can benefit from a boost of lean protein, like this BBQ Turkey Pizza.
Incorporating turkey into children's menus will appeal to kids and parents alike and make them likely to return. How would you include turkey on your children's menus? Share your ideas on our Facebook or LinkedIn pages, and visit our Resource Center for more tips and trends.
Sources