Turkey Talk: Busting the Myths
May 2019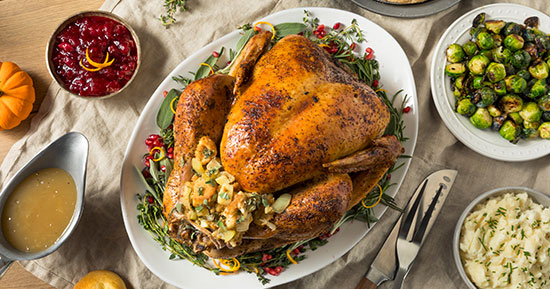 Turkey is a versatile protein, and some beliefs about it are just as varied as its uses. To help you get more out of turkey, we're clearing up the most common misconceptions we've heard about this ingredient.
Myth #1: It's Only for Thanksgiving
Some people think turkey has one place—and that's the Thanksgiving table. At Butterball, we know that's definitely not true. Turkey is an exceptionally customizable protein that goes beyond the traditional holiday roast. More than 40% of consumers, especially younger ones, would like to see more turkey dishes on restaurant menus year-round. You can meet demand by menuing turkey in different ways with products including:
Bacon
Sausage
Burgers
Hot dogs
Meatballs
Deli meats
Ground turkey
Myth #2: It's Only for American Cuisine
Turkey's potential is limitless. Because it's adaptable to various flavors, it's ideal for ethnic cuisines as a substitute for other proteins. Turkey is a great way to highlight emerging flavor trends while making international cuisines familiar and approachable. A recipe such as this Turkey Shawarma combines Middle Eastern influence with a delicious, recognizable protein.
Myth #3: It's Just Meant for Sandwiches and Carving Stations
While turkey is a favorite sandwich ingredient, it can be used in other recipes that are just as tasty and easy to make. It's appealing to health-conscious diners in particular, as approximately one-third of consumers are likely to order salads, soups and stews with turkey. This Mesquite Smoked Turkey and Red Quinoa Sedona Salad provides a powerhouse meal made with several superfoods. As a lean protein, turkey allows diners to indulge in a more healthful way across the menu without sacrificing taste.
Myth #4: It's Limited to Lunch and Dinner
Turkey can be much more than a p.m. protein. About a fourth of consumers and a third of younger consumers are interested in seeing breakfast menus that feature more turkey. Restaurant operators can capitalize on younger consumers' interest in breakfast dishes by promoting turkey as a healthier alternative to traditional breakfast meats. This Turkey Quinoa Breakfast Bowl is an on-trend, better-for-you morning meal that's also the perfect portable option for guests in a hurry.
Butterball is your partner in helping you get the most out of your operation. For the latest trends and helpful tips, visit our Resource Center and Tips page. To freshen up your menu with new recipe ideas, check out our Culinary Center.
SOURCES
Center of the Plate: Poultry Consumer Trend Report, Technomic, 2019.
Breakfast Consumer Trend Report, Technomic, 2017.