Rev Up Your Game-Day Promotions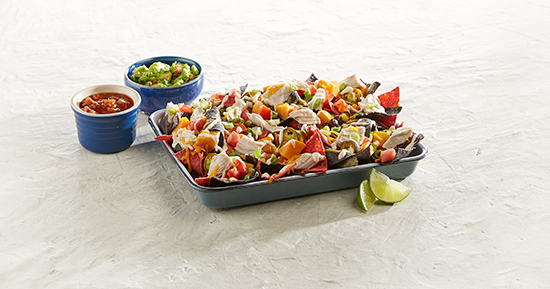 While the coronavirus has changed a lot of things, one thing that remains untouched is Americans' enthusiasm for sports. And just because dine-in may be closed or at limited capacity and live broadcasts of sports are at a fraction of their usual frequency, that doesn't mean operators can't use game-day promotions to drive sales.
Amp up the excitement on game days with these carryout-and-delivery-friendly ideas:
Offer a meal kit. These "take and bake" options are most popular among Gen Z and Millennials. More than 35% of consumers would definitely try them, while 44% say they might. These Turkey Chorizo Street Tacos don't require an experienced cook to assemble and are great for chowing down in front of the TV.
Score big. Nearly half of consumers would definitely order from a restaurant if free food or drinks were offered when the home team scores a particular amount of points.
Tie in a theme. More than 80% might try sports-themed family meals with a large-sized entrée and selection of sides, with 40% saying they definitely would. A fun way to do this is to nod to your home team with flavors your city or region is known for. You also can't go wrong with tailgate-inspired foods, such as this Buffalo Turkey Burger.
Pack some snacks. If given the option to choose from sports packages featuring multiple hot snacks and alcoholic beverages, 82% say they might try it, with 38% saying they definitely would. A spicy, shareable appetizer like these Loaded Turkey Nachos with Tajin Crema can assure diners they made the right pick.
Think about drinks. One of the most notable trends to emerge from the pandemic is "to-go" cocktail kits, which more than 30% say they would try. If patrons can't grab their favorite drink at the bar, give them the tools to replicate it at home.
For many customers, putting the game on and enjoying a meal is a ritual that provides a sense of normalcy. Offering specific sports promotions that lean into this sentiment can help them relax and feel just like old times.
What kind of sports promotions does your operation have? Give us the scoop on Facebook or LinkedIn. Take a look at our Tips page for more great ideas.
SOURCE
COVID-19 Report 34: Back in the Game, Datassential, September 2020.