Stand Out with Buzz-Worthy Marketing Techniques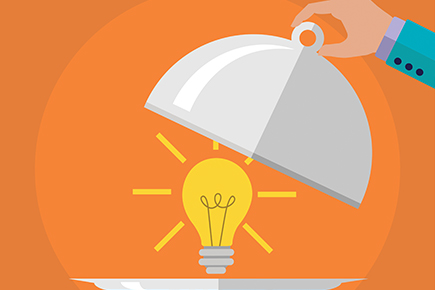 In the world of hospitality, keeping consumers interested and engaged with your business is a constant challenge. Standing out from the crowd is critical and has the potential to generate significant return. Here are four intriguing tactics to inspire your next marketing blitz:
In 1998, Burger King truly leaned into their "Have it Your Way" slogan with an April Fools' prank for the ages. The brand ran a full-page ad in USA Today promoting the left-handed whopper. According to the ad, all of the condiments were rotated 180 degrees to suit the 10% of the population that eats with their left hand. Burger King officials claimed thousands of customers flocked to the chain requesting the new sandwich, which either proves geometry isn't one of our strengths as a country, or that an eccentric publicity stunt can win business.
Secret menus are nothing new, but few have managed to generate the reputation of In-N-Out. The immensely popular California-based burger chain is remarkably well known for their extensive "secret menu." Items like Roadkill Fries (cheesy seasoned fries with a crumbled beef patty on top) or the Flying Dutchman (two slices of cheese melted between two burger patties) are just the beginning. Questions like, "did you hear about the roadkill from In-N-Out?" are frequent among In-N-Out fanatics, and because the company is constantly adding items to their secret menu, it never gets old. Secret menus are a great way to make customers feel like they're in the know and part of an exclusive club, even if they're not so secret after all.
Brand personality is important because many consumers will choose a brand because they can relate to it, like they might a friend. One fun example of a restaurateur taking advantage of his larger-than-life personality, and his wicked Jersey accent, is The Deli Guy from Park Wood Deli in Midland Park, New Jersey. The Deli Guy has been able to leverage the reach of social media to promote one-minute videos where he creates incredible sandwiches with flair. With 465K followers on TikTok alone, his Chicken Vodka Parm Sandwich video has garnered over 3 million views and 460 likes. How can you use videos to bring your brand's personality to life?
Domino's is known for their quirky and memorable commercials, but another clever idea from the pizza giant was their introduction of a wedding registry in 2017. Their goal was to "bring couples together over a shared love of pizza." Offerings include a postponed wedding pizza promo, a virtual bachelor party promo, and a post-honeymoon adjustment to real life promo.
A few of these examples are from chains with extensive budgets, but it's important to keep in mind that marketing is scalable. You don't need a million dollars to execute an attention-grabbing, traffic-driving idea. Simply consider what makes your brand unique, the value you bring to your audience and where they intersect. Then leverage the tools you have at your disposal to bring the idea to life. Who knows, your next idea might be the next big viral success.
Have any unique marketing strategies? Please share on our Facebook or LinkedIn page. Or visit our Resource Center for more tips and trends.
Sources:
https://www.tiktok.com/@parkwooddeli?lang=en
https://nextrestaurants.com/promotions/4-examples-off-beat-restaurant-promotions/
https://www.in-n-out.com/menu/not-so-secret-menu
https://www.foodandwine.com/news/mcdonalds-fan-hacks-menu
http://content.time.com/time/specials/packages/article/0,28804,1888721_1888719_1888662,00.html