Celebrate National Nutrition Month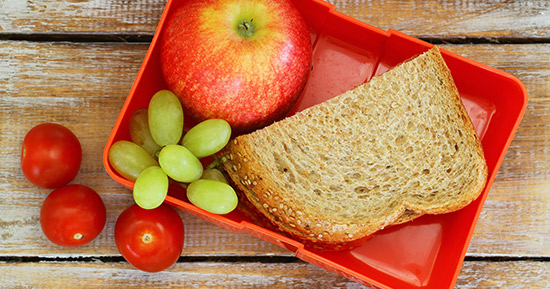 March is National Nutrition Month, and it's also when National School Breakfast Week falls, making it a great time to teach students about building healthy habits.
Whether your school is virtual or hybrid, consider these fun and educational ideas to help them understand the importance of nutrition:
Pick themes. Highlight one healthy eating or physical activity concept each week of March and plan activities that focus on it. For instance, week 1 can focus on fruits and veggies, week 2 on whole grains and so on.
Do some digging. Start a vegetable garden indoors or outdoors. Gardening is an activity that can be done while incorporating social distance, or alternatively, students can take seeds home and plant them in their yards.
Dive into research. Divide students into groups and assign them a different food group to investigate. Each child can share their findings on a particular food and its nutritional profile.
Compare labels. Ask students to save empty food product labels and boxes. Have them read the labels and compare information with the rest of the class. These products should range from junk food to healthy items so they can see the difference in nutritional value.
Track it. Encourage students to become aware of their habits—both healthy and unhealthy—by sharing tools that can help them see where they have room for improvement. Trackers are great for visualizing this, whether they're for water, fruit and vegetable consumption or physical activity.
Get competitive. Host a digital contest for a nutrition question of the day. Those who answer correctly can be entered to win a daily prize.
Make it applicable. Organize a sports nutrition session so students can learn about the relationship between nutrition and athletic performance. Tying healthy eating to one of their pastimes is a helpful way to make it a less abstract topic.
Bring in a guest. Reach out to a dietitian to give a virtual presentation that educates your school.
While March is National Nutrition Month, these ideas can be incorporated year-round. By working in fun and instructional activities, you can set students up for success with a foundation that lasts through adulthood.
How are you planning to celebrate National Nutrition Month? Share your inspiration on Facebook or LinkedIn. Browse our Tips page for more strategies and insights.
SOURCES
40 Ideas to get Involved in National Nutrition Month, Eat Right, 2021.
Celebrate National Nutrition Month, Action for Healthy Kids, 2019.