Recharge the Menu with Power Bowls
December 2019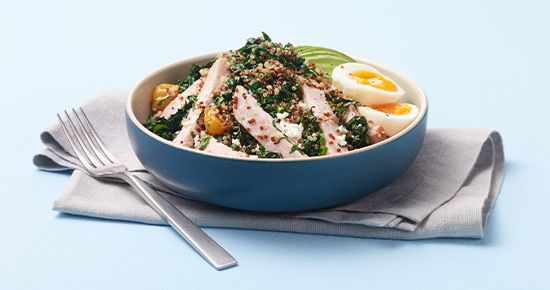 Today's diners are expecting more from their meals. That's why power bowls, with their blend of function and flavor, hit all the right notes with patrons. Between 2017 and 2018, power bowl sales increased by 70%. These dishes are especially popular with busy and younger audiences, as roughly one-third of Gen Z and millennials increased how often they order to-go over the last two years. They value variety, and while 77% of consumers seek create-your-own options, curated combinations are great for those who need more convenience.
The flexibility of power bowls extends across all dayparts. While they're endlessly adaptable, some components are more in demand than others. Chickpeas, carrots, honey, red pepper and kale are among the quickest rising ingredients in power bowls. Protein, in particular, is an interest-driver, as more than one-third of consumers would spend a higher amount on menu items high in protein. Turkey is a great option for bowls because it's low in fat and sodium and complements other flavors. Diners can enjoy this Turkey Quinoa Breakfast Bowl packed with quinoa, honey, kale and turkey for a heart-healthy morning meal.
Some of the biggest chains are embracing the bowl trend, too. Panera Bread created a new category for bowls with grain bases in an effort to branch out beyond sandwiches, salads and soups. Their Mediterranean Grain Bowl features hummus and feta cheese, and the Baja Grain Bowl, with its housemade salsa verde, draws influence from Mexican cuisine. Customers can expect more bowls from Panera Bread as they experiment with other flavors.
Another fast-casual player capitalizing on this popularity is Moe's Southwest Grill. Known for its regional flavors, the chain is diving into better-for-you recipes and consumers' desire for personalization. It's the first restaurant in the Mexican fast-casual segment to offer bowls, a testament to this food's versatility. In fact, Mexican power bowls rose 3.1% on menus in 2019. Moe's Quinoa Power Bowl features quinoa, beans, lettuce and nods to Latin America with corn pico, guacamole, cilantro and queso fresco. Operators can combine the kick of Mexican cuisine with health-forward ingredients on their menu with this Turkey Sausage Migas.
Latin American is just one of the global flavors driving the rise of power bowls. Ramen noodles have inspired chefs to explore other ingredient possibilities, such as udon, rice and buckwheat noodles. This Turkey Ramen starts with a base of cellophane noodles, turkey meatballs and a simmering broth to bring bold, umami tastes. Another option to consider serving for lunch or dinner is this Turkey Pad Thai, a spin on the beloved Asian dish featuring rice noodles and turkey medallions.
Not only are restaurant operators adopting this make-it-your-own meal, but school operators in K-12 and C&U segments are as well. At Loudon County Public Schools in Virginia, students may choose from a selection of grain bowls. In higher education, the University of Michigan and Kalamazoo College offer these portable meals, a convenient solution for those who need to grab something quick before class. With a strong health halo and opportunities for customization, these nutritious and versatile items can fuel everyone throughout the school day.
Power bowls can satisfy the needs of today's busy diners. The unlimited combinations of ingredients are a simple way to freshen up the menu and cater to individual preferences. Similarly, turkey is a protein that adds nutritional value while enhancing flavors in all kinds of recipes. Power bowls merge portability and popularity, and when combined with turkey, operators can use this mighty meal to boost traffic and profits.
Does your restaurant serve power bowls? Post about it on Facebook or LinkedIn. Tap into your imagination by browsing recipes in our Culinary Center.
SOURCES
4 ideas for serving better-for-you bowls, Foodservice Director, May 2019.
Fitzpatrick, Tara. Bountiful, healthy grain bowls, Food Management, January 2019.
Get to the Bottom of Bowls, Butterball Foodservice, 2019.
Moe's Announces Nationwide Launch of New Quinoa Power Bowl, QSR Magazine, February 2019.
Romeo, Peter. Panera looks to add a new menu category, Restaurant Business Online, September 2019.