How Pickling Can Brighten Your Menu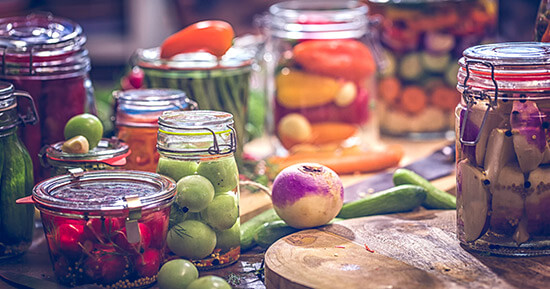 Pickling—the act of fermenting food in an acidic solution known as a brine—has been around for centuries, but it's experiencing a renaissance thanks to advancements in the process and a spike in consumer interest. Menu mentions increased by 58% from 2012 to 2017. There are many benefits to using more pickled items in your operation, especially when it comes to inspiring new creative possibilities. Here are a few to keep in mind:
Pickled vegetables can be used to create vibrant colors and flavors within your dishes. These bright colors excite audiences looking to order Instagram-worthy dishes, while the sour flavor pairs well with fried foods and sweet fruits, which have also been rising on menus.
The unique flavor can add a welcome twist across your menu. Many restaurants have found success featuring a variety of pickled fruits and vegetables as sides, condiments or add-on toppings. Adventurous bartenders have even begun featuring pickle juice in their signature cocktails.
Pickles can enhance a wide range of ethnic cuisines, like in these Korean BBQ Turkey Wonton Tacos, in this Italian Turkey Flatbread or on the side of an all-American Turkey Patty Melt.
Have you featured any unique pickled items on your menu lately? Let us know on Facebook or LinkedIn. For other interesting ways to keep your operation up on the latest trends, visit our Tips page.
SOURCES
Menu Data, Technomic, 2018.
Kelter, Diana. Pickled Ingredients Find Their Place in Foodservice, Mintel, May 2016.
Grey, Shane. The Advantages of Pickling Foods, LIVESTRONG, October 2017.
8 Menu Trends that Prove the Power of Pickling, Flavor & The Menu, 2018.
3 Ways Pickled Vegetables Can Boost Your Menu, QSR, July 2016.