Flavor Is King: New Options for Your Menu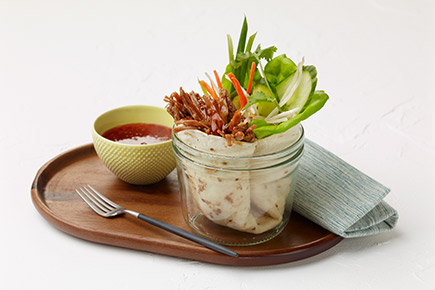 With tastes constantly in a state of flux, being on top of the latest and greatest in trends and flavor combinations is incredibly advantageous. In fact, 28% of consumers are more open to experimentation since the COVID-19 pandemic started, and 42% of consumers agree that they are more likely to try a new flavor from a restaurant than they are at home. Feed their curiosity with these tips.
Tip No. 1: Creatively Craft Condiments
Every burger spot has their secret sauce. Whether it's McDonald's Big Mac sauce, or the famed In-N-Out sauce, condiments are made for experimentation. It's nothing new, as condiment mashups have been around since the dawn of cooking as we know it. Take a look at Southeast Asian cooking, or South American food. Many dishes come with a plethora of condiments to be mixed and matched at the diner's discretion. Try doing your own research and development to figure out which combinations have that perfect balance of sweet, savory, sour, and umami for your dishes. Presenting your own mashups as "signature" sauces can help to boost diner interest. And with 36% of diners looking for more mashups, there's never been a better time to start.
Tip No. 2: Amp Up the Flavor with Top Picks
Obviously, flavor profiles are incredibly important when developing a menu. You want something for everybody, whether cheesy, savory, spicy, or sweet. These are the flavors most coveted by consumers, and flavors that almost every operation should have at their disposal. When making it hot, make it real hot. Up five points from 2019, 33% of consumers are crazy for spicy flavors. In addition, 33% of diners would love restaurants to offer foods that feature unique flavor combinations, like this recipe for a Hawaiian Turkey Burger. With sweet soy and grilled pineapple, it's sure to offer diners something truly delicious. Using global flavors is another way toward success. Take this Thai Turkey & Crispy Vegetables Wrap, satisfying diners' hunger for fresh Asian flavors.
Tip No. 3: Incorporate Healthier Options
By incorporating healthier options on your menu, you can appeal to a wider variety of audiences. Boosting the use of herbs and spices is a great way of adding flavor without fat or sugar, cutting down on the calories, and increasing the amount of better-for-you dishes you offer. In fact, 37% of consumers are more likely to try a new or unique flavor if there are health benefits. One example is this recipe for Singapore Meatballs and Zoodles, featuring a delicious Asian soy sauce and healthy zucchini noodles.
How have you implemented these tips into your operation? Share your thoughts on our Facebook or LinkedIn page. Or visit our Resource Center for more tips and trends.
Sources:
https://modernrestaurantmanagement.com/how-to-choose-the-right-furniture-for-your-restaurant/
https://www.edwardsandhill.com/blog/hotel-furniture/3-considerations-when-choosing-restaurant-furniture/
https://www.gotable.com/blog/top-tips-choosing-commercial-restaurant-tables-chairs/
https://designlike.com/5-major-tips-on-how-to-choose-the-right-restaurant-furniture/