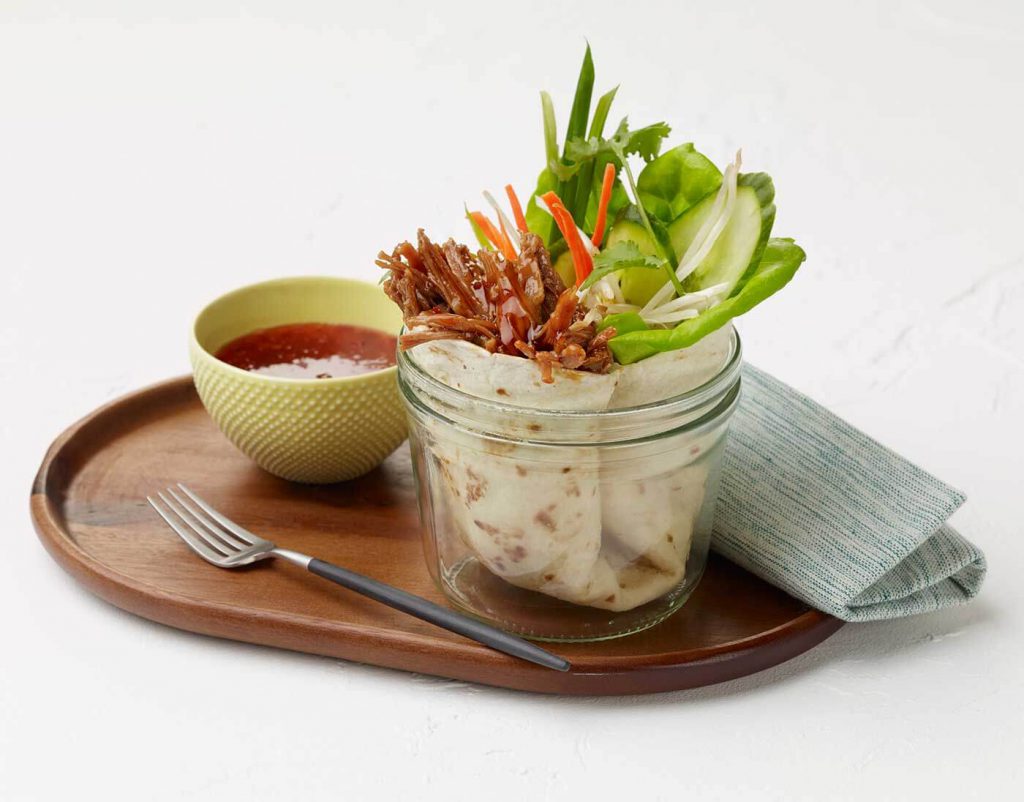 Thai Turkey & Crispy Vegetables Wrap
Satisfy diners' hunger for fresh Asian flavor with this uniquely plated Thai turkey wrap. Its sweet-and-tangy taste combination will have diners craving more. Serve as a lunch or dinner special with sticky white rice and habanero honey.
Ingredients
Thai Turkey & Crispy Vegetables Wrap
Flour tortilla, 10 inches wide
Butter lettuce, medium size
Green onions, thinly sliced
Cilantro (with tender stems—3 to 4 leaves per stem)
Directions
1.

Mound the warm shredded turkey on a 3-inch x 3-inch pile.

2.

Grill and heat the tortilla on a 350°F griddle for 5–6 seconds per side.

3.

Spread the Peanut Sauce down the center of the tortilla, about 2 inches wide (½ inch from the edge).

4.

Place the warm shredded turkey at 6 o'clock over the Peanut Sauce, close to the edge.

5.

Arrange the butter lettuce leaves at 12 o'clock, extending the leaves about 1 ½ inches above the top of the tortilla, about 3 inches wide. Sprinkle with the Marinated Cucumber Salad, green onions, shredded carrots, bean sprouts and cilantro sprigs, and then drizzle with 1 tablespoon of Oriental Sauce.

6.

Fold the left and right edges of the tortilla to the center, holding the ingredients snugly together. Fold the tortilla in half, bringing the turkey portion and the vegetable portion together.

7.

Arrange the wrap in a basket, keeping the turkey portion and vegetable portion together.

8.

Serve with 1 ½ tablespoons of Oriental Sauce on the side.
Ingredients
Peanut Sauce
Yield: 2 cups
Fresh ginger, peeled, minced
Crunchy natural peanut butter
Fresh cilantro, chopped fine
Directions
1.

Heat the oil in a saucepan over medium-high heat; sauté the garlic, onions, ginger, peppers, salt and cumin for approximately 1 minute.

2.

Remove the saucepan from the heat; blend in the peanut butter.

3.

Add the remaining ingredients and blend well.

4.

Serve the sauce at room temperature.
Ingredients
Marinated Cucumber Salad
Fresh mint leaves, chopped
Fresh basil leaves, chopped
English cucumbers, thinly sliced
Directions
1.

To make the dressing, combine all the ingredients except the cucumbers in a food processor or blender and blend well.

2.

Prior to serving, place the sliced cucumbers in a bowl and toss with the dressing.
Ingredients
Oriental Sauce
Yield: 3 cups
Ginger, peeled, finely chopped
Directions
1.

Combine all the ingredients except the Thai sweet sauce in a stainless steel saucepan and bring to a boil.

2.

Reduce the heat and simmer for 5–6 minutes.

3.

Cool the mixture thoroughly in an ice bath, for about 2 hours, and then incorporate the Thai sweet sauce and blend well.

4.

Place into a storage container with a lid. Label, date and refrigerate. Use within 4 days.
Get All Things Butterball Delivered to Your Inbox
Find Your Broker