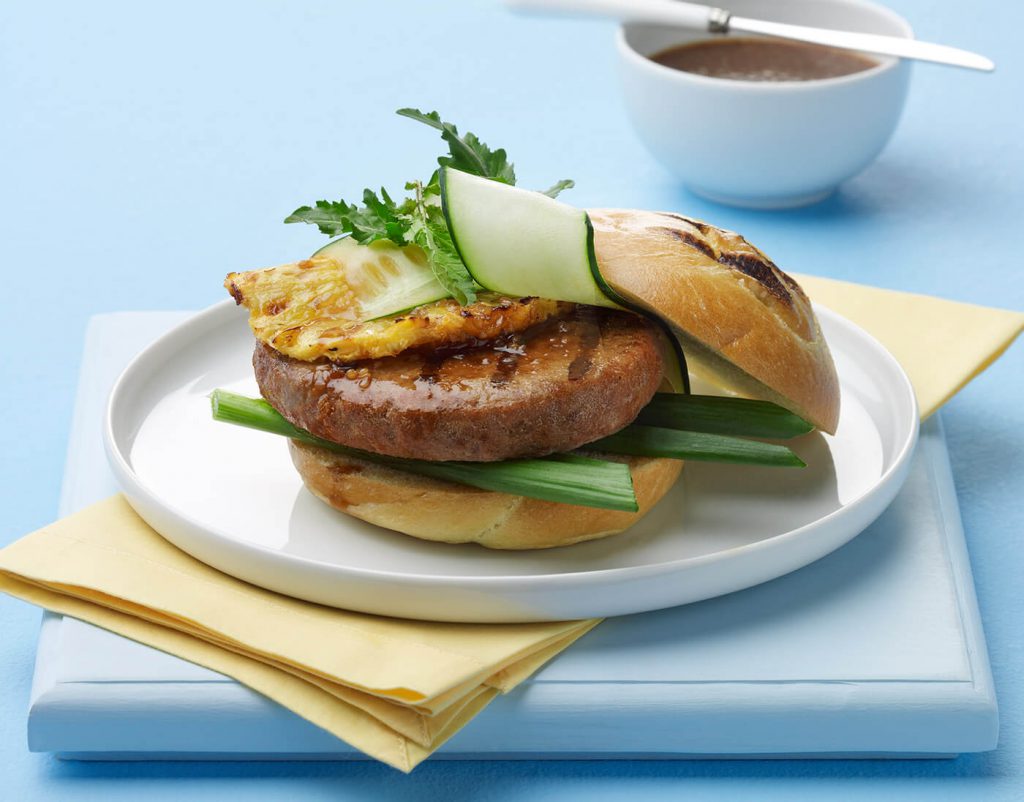 Hawaiian Turkey Burger
Sweet soy sauce and grilled pineapple add one-of-a-kind flavor to this tropical turkey burger. Instead of offering fries, suggest a side of hot bacon slaw to make a sweet-and-savory combination.
Ingredients
Hawaiian Turkey Burger
Fresh pineapple, core removed, sliced ¼-inch thick
Green onion, thinly sliced, white and green parts
Sweet soy sauce, as needed
Fresh cucumber, sliced lengthwise, 1/16-inch thick and 3 inches long
Directions
1.

Brush the turkey burger with oil and season with salt and pepper, then place it onto a charbroiler. Grill both sides on medium-high heat to an internal temperature of 165°F.

2.

While the burger is cooking, grill the pineapple (lightly brushed with oil) to a golden brown on both sides.

3.

Brush the cut sides of the burger bun with butter and grill to a golden brown.

4.

To build the burger, place the toasted bottom portion of the bun onto a plate. Sprinkle with the sliced green onions. Brush the turkey burger with the sweet soy sauce and place onto the bun. Place the grilled pineapple onto the burger. Place the cucumber and arugula on the pineapple. Place the top of the bun onto the burger.

5.

Serve.
Get All Things Butterball Delivered to Your Inbox
Find Your Broker