5 Ways to Give Diners What They Want
December 2021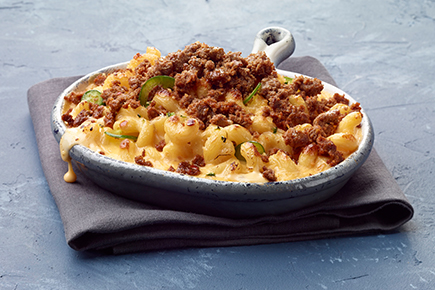 With vaccination rates rising in the United States, consumers are becoming increasingly more comfortable with eating out. Restaurants are experiencing a renaissance, with dining away from home becoming one of the first public activities to return to "normal" since the start of the COVID-19 pandemic. Now more than ever, it's important to cater to guests' ever-changing needs, whether that means providing them with new, exciting menu items or making them feel as comfortable as possible when dining indoors. So…what are consumers looking for? According to Technomic, there are five key menu/service items that diners are seeking.
Complimentary Items
When it comes to making a guest feel special, complimentary items are a good place to start. In fine-dining establishments, this has been a key factor in crafting an excellent experience since the days of Escoffier era France. Whether it is an elaborate amuse bouche, a simple basket of warm baked bread, or a sweet treat at the end of the meal, these added touches help create a more memorable experience. It's almost guaranteed that complimentary food of any sort will put a smile on a customer's face, but make sure you execute it in a thoughtful way. Surprise and delight elements should always reflect the overall feel of the establishment, align to the menu, and of course, be easy to prep and deliver to patrons in order to avoid putting additional stress on already busy staff.
Take Comfort in Tradition
With colder months upon us, guests are craving heartier dishes full of robust flavor. And while traditional comfort foods typically re-emerge each year in Q4 and Q1 thanks to their association with the season, demand for comfort this year stems from more than that. After months of quarantining and social distancing, many Americans are channeling their inner child and turning to familiar favorites to remind them of simpler times and make them feel good.  Afterall, in times of uncertainty and stress, food can be a way to find relief and small joys. For recipe inspiration, check out our Queso Mac & Cheese. 56% of diners think Mac & Cheese conveys comfort. Similarly, 48% of guests found burgers to be incredibly comforting. For a diner favorite, consider this turkey patty melt.
Premium Taste Away-from-Home
In an age where everyone considers themselves a bit of a chef, it can be a challenge to impress customers. Time in quarantine has inspired people to venture into more complicated recipes, like sourdough bread or experimentation with luxury ingredients. Even still, no matter how much you love cooking, there are some dishes best left to the professionals, especially after a long day at work. According to Datassential, a combined 56% of polled restaurant goers said that they're either seeking variety (food different than what they normally cook), or dishes that are hard to execute in their home kitchen. As an operator, it's important to offer unique flavors with a great deal of variety to spice up your menu. For instance, you can wow guests with this Turkey Ramen that sounds more complicated than it is.
It's All in the Presentation
A meal thoughtfully presented can engage all the senses, which is why the majority of consumers polled said that presentation is an important part of dining on-premise. You eat with your eyes first, so making food look incredibly appetizing is obviously a must. But the pleasure derived from eating or drinking is the sum of all the sensory experiences. To that end, operators must consider aroma and texture as much as appearance and flavor in order to deliver noteworthy dishes. Customers aged 25-34 value presentation more than any other age group, so keep that in mind when looking to drive traffic and excitement with that highly sought-after demographic.
Twists on the Traditional
According to Technomic, 61% of consumers believe they'll be seeking foods that elicit comfort for years to come. At the same time, we've started to see how pent-up demand from the last 18-months has accelerated the speed at which diners are looking for trending and innovative options. The result is a need to re-evaluate traditional comfort classics and evolve them to incorporate interesting and unique twists. Take turkey for example. Regaled as the preferred center-of-the-plate ingredient for the most comforting meal of the year, it's also incredibly versatile and can help bring a better-for-you twist to countless other dishes. A great example is our recipe for Lomo Saltado, Chinese Peruvian comfort food. We have put our spin on it by replacing the chunks of beef with roast turkey breast and mingling it with a dark brown sauce, onions, scallions, peppers, cilantro, garlic and French fries. Intriguing diners with unexpected twists like this is a great way to encourage continued exploration of your menu.
As an operator, you need to continue to take stock of what consumers are looking for as you adapt in this ever-changing environment. The competition for share of stomach has never been stronger, so whether you incorporate some of the ideas above or look to your own loyal diners for inspiration, be sure to make regular updates to your menu to foster interest and increase repeat traffic.  How have you evolved your menu in consumer driven ways this past year? Share your thoughts on our Facebook or LinkedIn page. Or visit our Resource Center for more tips and trends.
Sources:
Comfort Connotations, September 2021, Technomic
COVID-19 Report 27: FINDING OUR WAY, Datassential 6.26.20