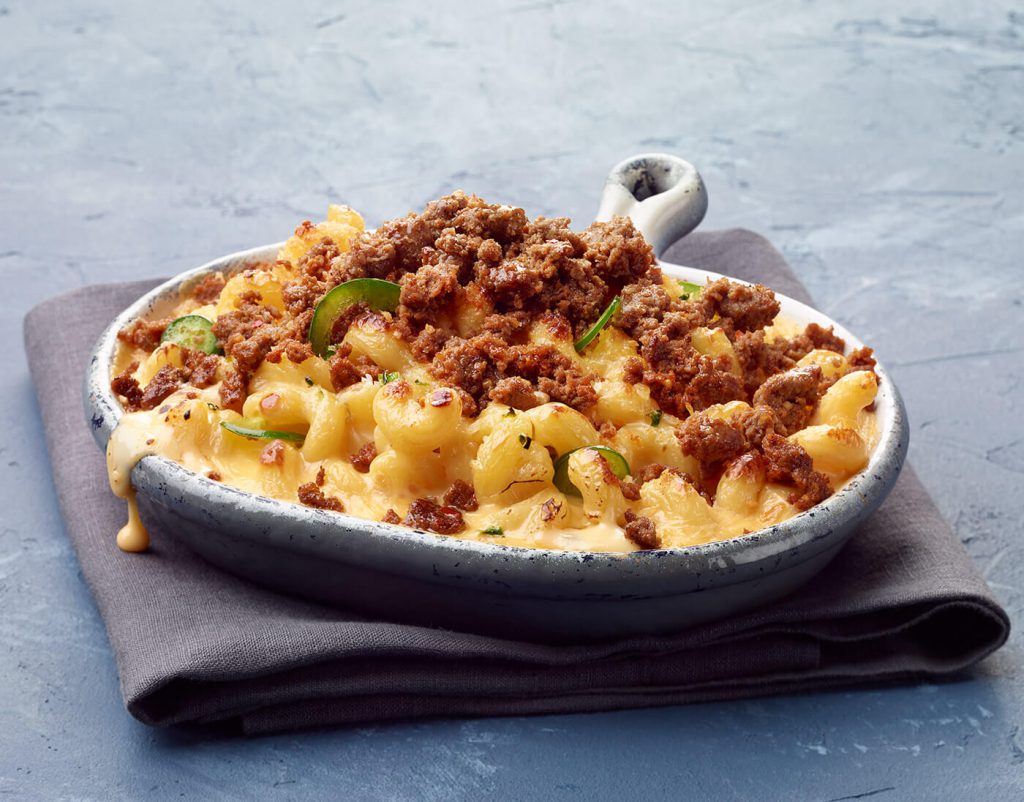 Queso Mac & Cheese
Take mac and cheese to a spicy new place with the flavorful additions of chorizo ground turkey and chopped jalapeño. Serve for lunch, for dinner or as a side to please patrons with a new take on comfort food.
Ingredients
Queso Mac & Cheese
Yield: 6 pounds
Queso, fresh and crumbled
Blue and gold corn chips, as needed
Directions
1.

Boil the pasta until cooked al dente. Drain and rinse with cold water. Let cool.

2.

Pour the cold pasta into a buttered pan (approximately 9 inches x 13 inches). Combine the Mac & Cheese Topping ingredients, blend well and add to the pasta along with the Cheese Blend. Spread evenly.

3.

Bake in a preheated oven until hot and bubbly around the edges (to an internal temperature of 175–185℉).

4.

While the mac and cheese is heating, sauté the house-made chorizo ground turkey (in pieces about the size of a dime) until hot and crumbly.

5.

Remove the mac and cheese from the oven, then top with the cooked chorizo ground turkey, sprinkle with the fresh queso and garnish with the cilantro sprig.

6.

Serve the pico de gallo and chips on the side.
Ingredients
Cheese Blend
Mild yellow cheddar cheese, grated
Pepper jack cheese, grated
Jalapeños, fresh and chopped
Salt and pepper, to taste
Directions
1.

Heat the cheese sauce in a heavy-duty saucepan. Bring to a boil. Lower to a simmer, and then fold in grated cheeses and diced Velveeta. Blend well.

2.

Add the milk and jalapeños, then add salt and pepper as desired.
Ingredients
Mac & Cheese Topping
Directions
Get All Things Butterball Delivered to Your Inbox
Find Your Broker