The Future of On-Campus Cooking
November 2021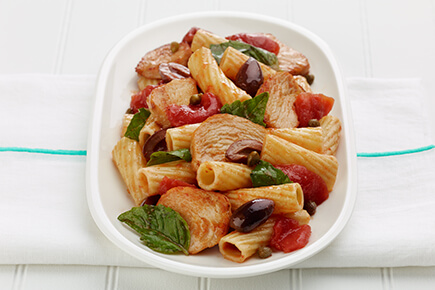 With so many eclectic and convenient food options only a short walk or delivery away, college students are opting to eat off campus rather than on. In response, C&U operators are always looking for ways to keep those students dining in one of their many locations instead of hitting up the drive-through at a neighboring chain.
As Framingham State University explored what it would take to keep students interested and engaged with on-campus dining options, they realized a more personalized meal experience in university dining halls was an area of opportunity. After all, 34% of students believe that "ability to customize a dish" is one of the most important attributes for all food and beverage purchases, both on campus and off. This probably stems from fast-casual options growing in popularity, such as Chipotle and Sweetgreen, where the value premise is grounded in mixing and matching preferred ingredients and combinations for true customization. In the same study, 60% of 18- to 24-year-olds who dine on campus said that build-your-own stations where you add toppings yourself were an increasingly appealing option.
In response and in partnership with Sodexo, FSU introduced a new solution in 2018: UCook@FSU. This program offered students the ability to prepare their own lunch and dinner meals under the watchful eye and assistance of a staff chef. In a day and age when it seems everyone in America has an interest in cooking and eating well, this was a great opportunity to learn more about food and cuisine, while also working with a professional to make sure that meals were prepared safely. Students were provided a variety of fresh vegetables, cooked proteins, al dente pasta, sauces, spices and seasonings to craft their own unique dishes. Chefs helped students learn how to use an induction burner and sauté pan to cook a combination of items.
More recently, Providence College introduced the "UCook" program in its newly renovated dining hall. Here, students are able to cook their own meals while watching demonstrations on nutrition as part of a life skills program. DIY stations like this are great because they help to accommodate student demands in an ever-changing food landscape. Current university students have higher expectations pertaining to ethnic and diverse flavors, and with more students having the urge to travel and experience new cultures, food can be an excellent form of expression. Classic ideas that afford the opportunity for customization include stir-fry and pasta bars with an assortment of vegetables, proteins and various cheeses. Students have far more control over their diet while on campus when they're able to select which ingredients and how much go into their meals. Students also become far more satisfied, knowing that specific dishes were made by them, exactly to their liking. Given the pandemic and increased scrutiny on food safety, some students may also feel more comfortable with a low-touch scenario like this as long as the attending chefs are helping to switch out sauté pans after each use and wiping down commonly used surfaces.
Even more valuable than UCook's ability to provide customization opportunities is perhaps its ability to foster cooking skills that will help students post-graduation. Whether it's cooking meals for family and friends, or just talking about some of their favorite self-made dishes, learning to cook is an invaluable skill that everyone should master.
What do you think about "UCook"? Share your thoughts on our Facebook or LinkedIn page. Or visit our Resource Center for inspiration on how to best prepare your business for the future.
Sources:
https://www.food-management.com/colleges-universities/datassential-college-food-service-sales-have-dropped-cliff
https://www.providencejournal.com/story/entertainment/dining/2021/08/30/dining-hall-renovation-and-update-done-providence-college/5607187001/
https://www.food-management.com/design/students-are-their-own-chefs-diy-station
https://mobile.twitter.com/rensselaerds/status/1197208519667310592
https://www.forbes.com/sites/eveturowpaul/2021/01/05/7-food-and-lifestyle-trends-that-will-define-2021/?sh=54b7efd96c6b