How to Win over Customers with Appetizing Menu Descriptions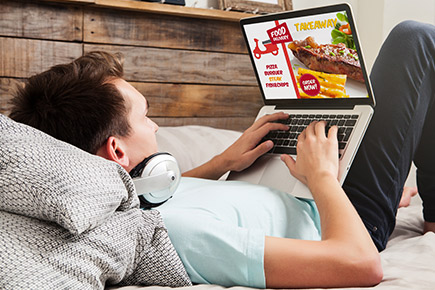 For customers ordering food away from home, doing so online was picking up steam even before the pandemic. But the shift away from indoor dining in 2020 increased this trend dramatically. According to the Boston Consulting Group, digital ordering represented 28% of all orders at the end of 2020, compared with 10% before the pandemic. Boston Consulting Group adds "in just six months, the pandemic [had] accelerated shifts that otherwise would have taken five years to achieve."
As customers have moved to their phones and computers to make their restaurant and meal choices, an establishment's online menu has never been more important. Getting high quality photography of your own offerings should be a priority, but doing so for each dish can be cost prohibitive. That makes punchy and enticing menu descriptors even more crucial.
Check out these tips to optimize the appetite appeal of your menu messaging.
Tip #1
With each menu item, make sure you're tempting instead of just telling. Here are some examples:
Telling: Buffalo Turkey Burger and Fries
Tempting: All-Natural Turkey Burger smothered with a tangy Buffalo glaze and paired with hand-cut russet fries
Telling: Garden Salad with Turkey and Red Quinoa
Tempting: Mesquite Smoked Turkey and Red Quinoa Sedona Salad served with scratch-made toasted garlic bread
Tip #2
Like in the above "tempting" examples, lean into descriptive adjectives to increase irresistibility. Explore the below examples, and then find more by using a thesaurus, observing culinary articles or even scanning the menus of other establishments.
Taste descriptors:
Buttery
Nutty
Peppery
Spicy
Tangy
Zesty
Texture descriptors:
Airy
Crispy
Flaky
Melty
Tender
Velvety
Preparation descriptors:
Charred
Fermented
Glazed
Seared
Smoked
Whipped
Tip #3
Be authentic with your wording. Actually taste your food and then put pen to paper to describe the experience. Help readers envision that first bite by avoiding generic, non-specific words like these:
Generic words to avoid:
Tasty
Delicious
Yummy
Perfect
Irresistible
Amazing
Out-of-this-world
The best
Have you recently optimized your menu to boost online orders? Share your experience on our Facebook or LinkedIn page. Or visit our Resource Center for more ideas around driving more business in today's unprecedented foodservice landscape.
SOURCES: