Grab-And-Go is Going Up
June 2023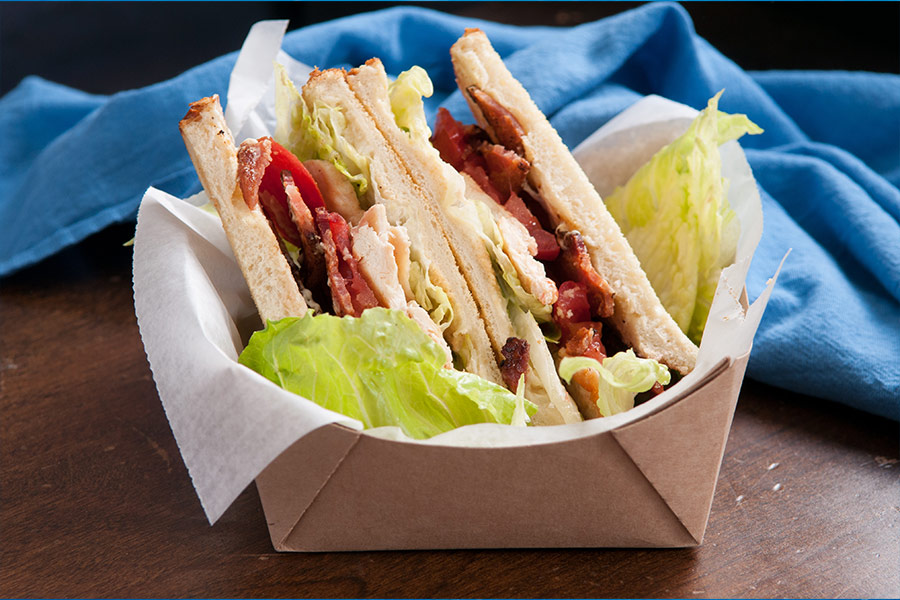 Busy diners are ditching traditional, sit-down meals for grab-and-go options across dayparts. Their demand for portable meals has risen a remarkable 72% since 2020, prompting many operators to add more options or optimize their branding to entice consumers looking for healthy yet convenient meals.
Serving All Dayparts
Whereas consumers previously reached for portable food options as a pick-me-up snack between events in their day, they are now choosing them to replace their main meals. Breakfast continues to be a popular grab-and-go daypart, but operators are seeing even greater demand as the day progresses. Grab-and-go sales for lunch are 20% higher than breakfast, and dinner sales are 4% higher than lunch.
Thinking Outside the Sandwich
Operators are taking advantage of these numbers by finding unique ways to offer traditional meals in portable formats. Chef Paul Sletten of Abreo in Rockford, Illinois, put his spin on the breakfast sandwich by using a crepe instead of bread, forming it into a cone wrapped around assorted veggies and herbs and serving it in a to-go cup. Creative applications like this can help distinguish a restaurant's offerings from others' and encourage consumer perception of these items as premium products, increasing their willingness to pay more.
Highlighting Freshness
Since some consumers still think of grab-and-go options as less fresh than traditional meals, operators have rebranded or optimized their packaging to encourage sales. American Dining Creations switched their packaging from plastic clamshells to higher-quality containers in different shapes to boost the appeal of their sandwiches and salads. As they noticed consumers wanting more reheatable entrees than sandwiches and salads, they responded by packaging their café items as grab-and-go meals. To further entice consumers, they developed the My Fresh Market brand, drawing on farmers market imagery for their labels. The company saw greater success by using green text in an informal font on brown paper and using terms like "chef-inspired," "scratch-made" and "freshly made." Serving locally relevant food items, such as Tex-Mex food in Texas, also helps indicate freshness and increase appeal.
Keeping the Campus Moving
Colleges and universities are also seeing increased demand for grab-and-go, as students rush from class to class or stay up studying past dining hall hours. The University of Denver noticed this trend and responded by launching a self-check-out campus grocery store in Spring 2022. As a result, their grab-and-go options have become their most popular items, selling about 300 cold meal items weekly.
With more consumers reaching for portable meals throughout the day, now is the time to highlight or rebrand grab-and-go options to make the most of this trend. How will you optimize your menu items for portability? Share your ideas on our Facebook or LinkedIn pages, and visit our Resource Center for more tips and trends.
Sources: