Fruity, meet savory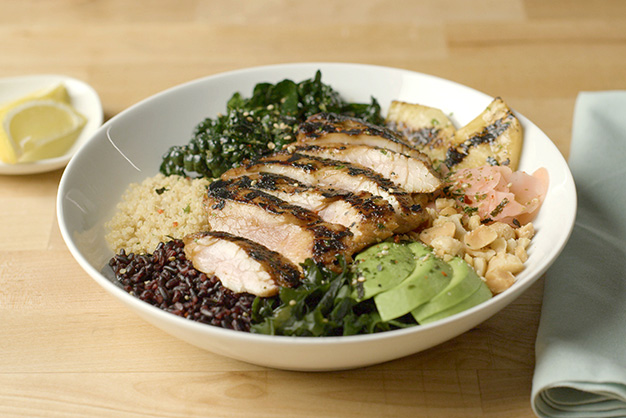 Certain dishes or flavors can make us feel the comfort of home or transport us to places we've never been, and this has never felt as crucial as during the pandemic. Amidst canceled travel plans, missed social gatherings and lockdowns, the urge to escape was a constant companion. Even though lockdowns have lifted, we are still craving escapism. One way that operators can provide the feeling of adventure that guests are looking for is by marrying tropical ingredients with savory dishes.
According to the Technomic Flavor Consumer Trends Report, 45% of consumers find fruity flavors appealing, and 1 in 3 consumers finds the combination of savory and fruity flavors appealing. Now is the time to experiment with the tropical fruits, like lime, coconut, mango and pineapple, and even branch out with more exotic ingredients like guava, tamarind and passionfruit. Need some ideas? Get inspired with these four recipes that marry the bright, refreshing sweetness of fruit with savory turkey.
Kona Turkey Bowl. With turkey breast, pineapple, seaweed, macadamia nuts and spicy-tangy pickled ginger, this recipe is like a day in paradise.
Hawaiian Turkey Burger. Create a taste of island living with a lean and refreshing take on the classic burger. Bright, acidic pineapple rests atop savory turkey, balanced with palate-cleansing cucumber and umami-rich soy sauce.
Turkey Wrap with Mango Chutney. In a twist on a popular lunch offering, this turkey wrap can be drizzled or dipped in sweet mango chutney for a unique flavor experience.
While guests may still not be able to pop over to Hawaii or the Caribbean any time they like, operators can create a culinary vacation for diners by evoking the sensations of basking in a tropical paradise. Try these recipes using vibrant fruits and uplifting flavors to provide that sense of escape.
What is a dish that transports you? Share now on our Facebook or LinkedIn pages.
Sources:
https://www.getflavor.com/2022-top-10-trends-tropic-like-its-hot/
https://www.customculinary.com/Culinary-Expertise/Food-Trends/2022-en/Top-Trends-of-2022
https://d1e3z2jco40k3v.cloudfront.net/-/media/project/oneweb/fon21/articles/2022/03/fona_exoticfruittrendbites_0322-1pdf.pdf?rev=d53091de3657402093f57f04fc4fe041&hash=60FE5E8BB9EAEFBF16BAA2487744FB8C