Food Trucks—Vehicles for Menu Innovation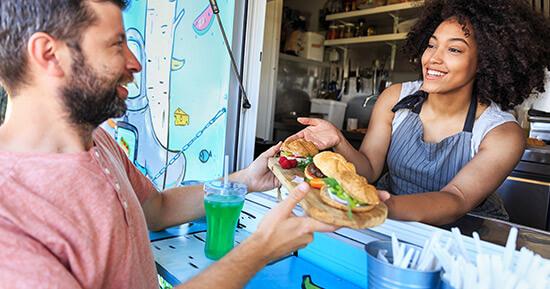 The food truck phenomenon is more than a passing trend—it's a $1 billion business. The number of food trucks increased by 8.4% from 2007 to 2012, and the segment is still growing. Whether you're already in the business, planning to be, or not even considering it, there are important things to learn from the food truck frenzy.
Food trucks provide convenient, affordable food options patrons can't always find in brick-and-mortar operations—nearly 41% of consumers believe food trucks offer unique items. Most often, food trucks specialize in a certain food or type of ingredient, from sushi and pulled pork to cupcakes and stir-fry. Because of this, they can focus on creating innovative ideas that attract adventurous diners.
It's no surprise that food trucks are major competition for quick-service restaurants. Some QSR chains, like Taco Bell and Jack in the Box, have implemented their own food trucks in an attempt to keep up with the trend.
Launching a food truck as a brand extension may be a profitable plan, but there are other, more economical routes you can take to attract foodies to your operation. Try making menu alterations to provide the same exciting experience people have when visiting a food truck. Use these ideas to start:
Be sure to have a variety of à la carte offerings. Make your menu more accessible to patrons seeking a quick bite by pricing items individually.
Menu more grab-and-go options. Try these Turkey Pick-Up Sticks for ultimate portability.
Change is good. It might not be possible to change your entire menu every day, but it's important to have a selection of rotating items. Offer a different turkey burger every day to keep diners interested in your menu. Check out our tasty assortment of turkey burger recipes for inspiration.
If patrons can find their food truck favorites in your operation, they'll be sure to come back for more. Visit our Culinary Center to find food-truck-friendly recipes.
SOURCES
IBISWorld, 2013
NDP, 2013