Deals for Shots: Could a Vaccination Promo Boost Your Restaurant's Sales?
July 2021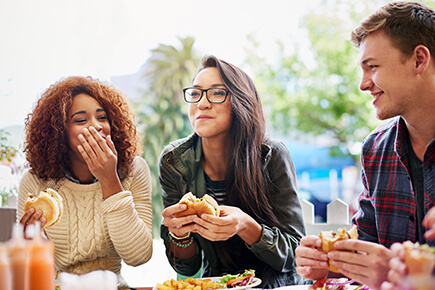 As more consumers get vaccinated for COVID-19, they're eager to cure the cabin fever they've been dealing with for more than a year. Luckily for restaurants, this means a lot more dining out. According to Datassential, as of May, 42% of consumers say they have eaten inside of a restaurant dining room. This is up from 14% in February.
As operators compete for this new surge of hungry customers, they should consider how best to boost excitement and demand. One easy, on-trend way to increase traffic is to offer discounts or even free items to those who are fully vaccinated. In fact, according to Datassential, 48% of all consumers say such an offer from a local restaurant would make them more likely to eat at that restaurant. And when checking in with consumers who are already vaccinated, that number jumps to 66%.
As operators do their own cost/benefit analysis on potential promotions, they can look to a handful of industry peers who have already initiated vaccination-related specials.
In Connecticut, the state's Office of Tourism has created a campaign entitled "Drinks Are On Us." In partnership with 175 restaurants, ranging from single establishments to national chains, the state is offering one free drink to anyone who shows a vaccination card at participating locations.
Another promotion that has been making headlines comes from Krispy Kreme®. The doughnut chain is offering one free glazed doughnut per day for the rest of 2021 to any customer who shows their vaccination card. Additionally, the company has pledged to donate doughnuts to vaccination centers across the country. And for the icing on top, the company is giving its employees 4 hours of extra paid time off to get vaccinated, a move that many other employers have taken as well.
Nathan's Famous® is also offering one free hot dog to its Coney Island location's customers who can show proof of vaccination. Shake Shack is following suit with a free side of fries to any vaccinated customer who purchases a burger or chicken sandwich at one of the company's 25 New York City locations.
And with a little extra effort, vaccinated consumers over the age of 21 can cash in on two beer promos. Once customers sign up for a "My Cooler Rewards" membership from Budweiser, they can enter to win one of 10,000 free beers through the "Reunited with Buds" offer. The free beer will come in the form of a $5 debit card. Sam Adams has initiated a similar marketing move, offering a $7 Cash App deposit to the first 10,000 fans who post vaccination verification to either Twitter or Instagram with the hashtag #ShotForSam.
Have you gotten creative with promotions to attract vaccinated customers? Share your ideas and connect with others on our Facebook or LinkedIn page. Or visit our Resource Center for more insights and inspiration.
SOURCES:
COVID-19 Report 43: Roaring Back. Datassential, May 2021.
COVID-19 Report 50: Reconnecting. Datassential, April 2021.
Maze, Jonathan. Krispy Kreme Will Give You Free Doughnuts All Year If You Get Vaccinated, Restaurant
Business, March 2021.
Teehan, Sean. CT restaurants offer free drinks to COVID-19-vaccinated customers, Hartford Business
Journal, April 2021.
Wida, Erica Chayes. Deals and food freebies you can score with a COVID-19 vaccine card, Today, April 2021.