Chefs are Adding "Chaos" to Menus
November 2023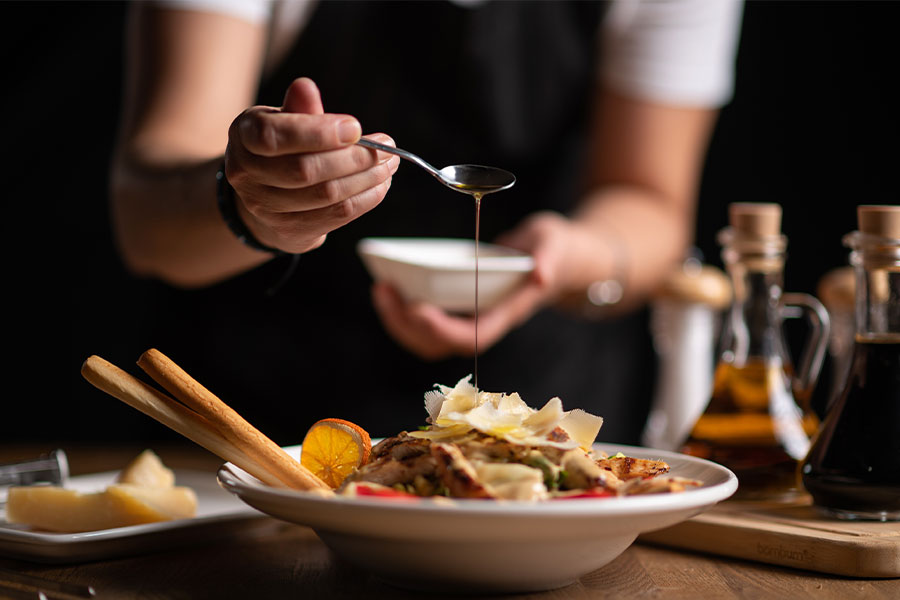 Though it might sound at first like ingredients flying around a kitchen, "chaos cuisine" is one of the latest culinary trends to watch. Chefs are playing with combining classic recipes in a single dish, and diners, especially in the C&U segment, are loving it.
Sometimes labeled "fusion," this style bucks the tradition of separating cuisines by ethnicities or prestige. You won't find many Michelin-starred restaurants offering a Whopper. But, while "fusion" usually describes a menu that includes dishes from more than one ethnic cuisine, chaos cuisine mixes multiple culinary influences on one plate or recreates nostalgic favorites using fine ingredients.
Chaos cuisine can involve combining ethnic-inspired flavors in one dish. Chartwell's is innovating its C&U offerings by serving mashup recipes like wonton nacho bowls with orange chicken and vegetables, and spicy street corn mac and cheese. Other menus combine two American favorites or mix American and global ingredients for unique creations, like Big Mac pizza, pastrami tacos, masala cheesesteaks, and chorizo and queso on popcorn.
Chefs like Sheal Patel of Dhuaan BBQ enjoy rebelling against traditional rules of cooking. Patel wanted to marry Indian flavors with red meat, not a typical protein offered at Indian restaurants. By adding his own twist on those traditional flavors, he offered diners a taste of something they likely wouldn't find anywhere else.
Other chefs, like Alex Watanabe and Marcelo Baez in their forthcoming Manhattan restaurant, aim to highlight the unique connection between two seemingly disparate cuisines as Mexican and Japanese. Their developing menu, with dishes like birria ramen, al pastor sushi rolls and shrimp teriyaki tacos, reflects not only an international relationship, but also celebrates the friendship of the two owners through the communal act of dining.
Common among these menus is a "lighten up" approach to fine dining. Chefs are drawing inspiration from their multicultural communities or multiethnic upbringings and having fun in the process.
Restaurant operators looking to embrace this trend should consider the versatility of a healthy protein like turkey, which can be easily incorporated into a variety of mashup recipes. Flip the script on the average turkey sandwich with this Moroccan-Spiced Turkey Salad Sandwich, including apricots and toasted almonds on rye or pita. Or put a spin on the classic taco with these Thanksgiving Fiesta Tacos, featuring turkey, stuffing and cranberry pico de gallo.
What kind of "chaos" dish would you make at your operation? Let us know on our Facebook or LinkedIn pages, and remember to visit our Resource Center for more tips and trends.
Sources: