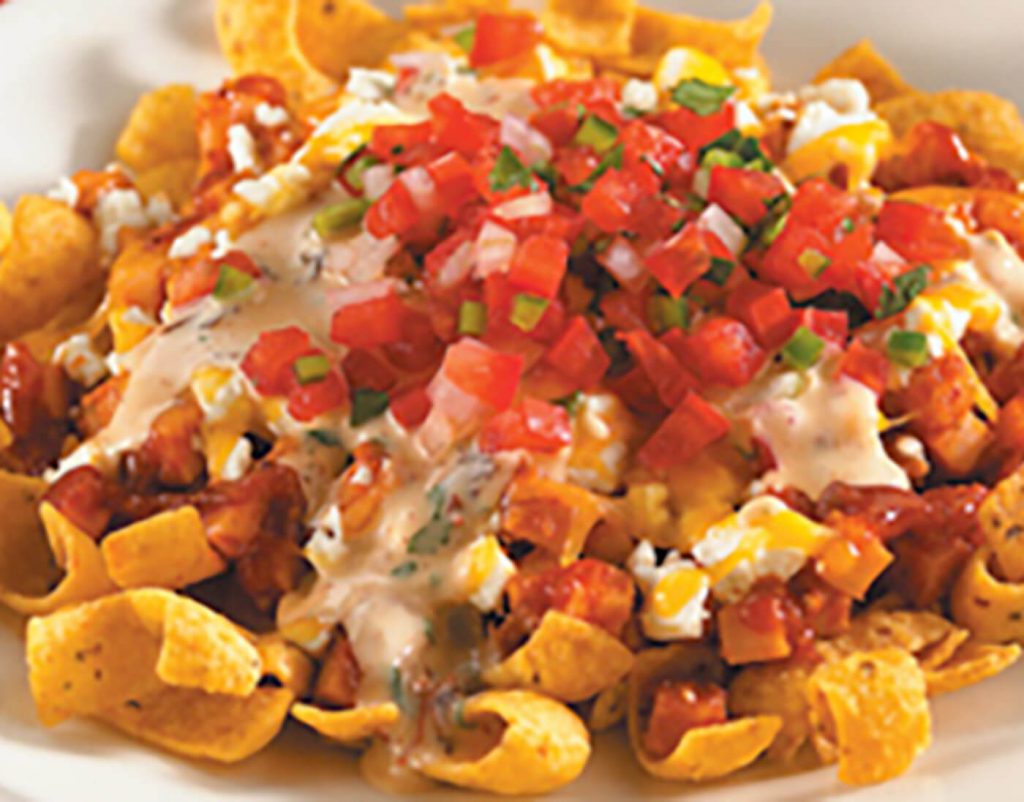 Smoked Turkey Breast Frito Pie
Ingredients
Smoked Turkey Breast Frito Pie
Lambert's House BBQ Sauce*
Directions
1.

Scatter Frito chips on an oven-proof bowl or platter.

2.

Toss turkey in enough BBQ sauce to coat and heat until warm throughout. Spoon turkey on top of chips.

3.

Place chunks of goat cheese around turkey, then top evenly with Cheddar cheese.

4.

Place under a broiler or in a 450°F oven until cheese is melted and has begun to brown. (Be careful not to burn chips.)

5.

Remove pan from oven and slide onto a serving plate or bowl.

6.

Pour melted queso on top followed by a scoop of pico de gallo. Garnish with cilantro leaves.
Ingredients
*Lambert's House BBQ Sauce
Yield: 1 gal
Salt and freshly ground black pepper
Directions
1.

Sweat onions and garlic in olive oil until tender and translucent. Add brown sugar and stir until melted. Add ketchup, chipotle, mustard and apple cider and stir to combine. Bring to a simmer. Add spices and continue simmering gently, stirring occasionally, for 20 minutes. Remove from heat and purée using a large handheld immersion blender. Cool over an ice bath. Reserve.
Ingredients
*Lambert's Queso
Yield: 1 qt.
Chipotle peppers, canned, finely diced
Directions
1.

Mix all ingredients and melt over a double boiler or in a microwave. Reserve, warm.
Ingredients
*Pico de Gallo
Yield: 3 cups
Roma tomatoes, ¼-inch dice
White onion, small, ¼-inch dice
Jalapeños, seeded, finely dice
Salt and freshly cracked black pepper
Directions
1.

Combine all ingredients. Season to taste with salt and freshly cracked pepper.

Note.

Recipe and image furnished by Plate's Turkey Inspiration insert.
Get All Things Butterball Delivered to Your Inbox
Find Your Broker