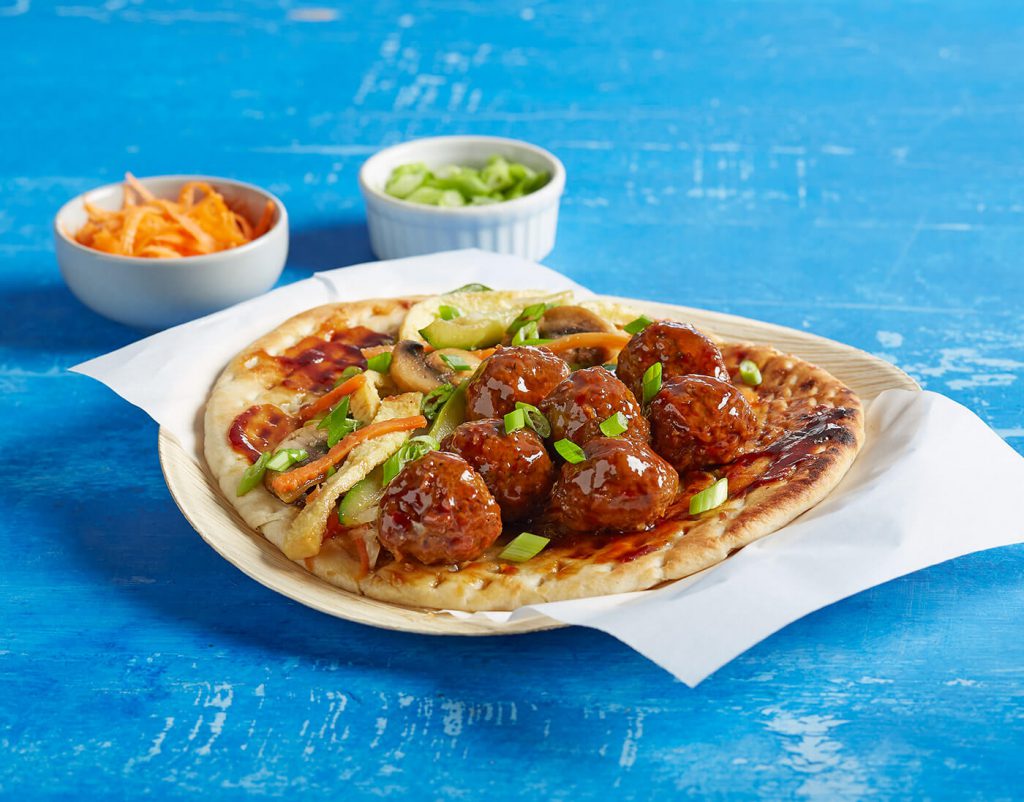 Hot Honey Meatball Wrap
Fans of Asian cuisines will enjoy the Chinese influence in this moo shu-inspired wrap. These hot-honey-coated turkey meatballs deliver on the promise of an exciting, sweet yet fiery ride. Serve as a lunch or dinner item to thrill your adventurous patrons.
Ingredients
Hot Honey Meatball Wrap
Yield: 4 servings
Scallions sliced on bias (reserve some for garnish)
Directions
1.

Whisk egg with salt and pepper. Spray nonstick skillet with vegetable spray. Add egg; swirl around the pan to form a crepe, cook on one side and flip to cook the other side. Let cool and cut egg pancake into julienne strips. Set aside.

2.

Toss meatballs with hot honey and set aside.

3.

Mix sake, soy sauce, corn starch and sugar. Stir until sugar is dissolved. Set aside.

4.

Heat a skillet with 1 tablespoon sesame oil. Add naan and lightly brown each side. Remove from pan and spread each naan with 2 tablespoons hoisin sauce.

5.

Add to hot skillet remaining sesame oil, mushrooms, cabbage, cucumber, julienned egg, ginger and garlic. Stir-fry quickly until mushrooms are cooked and ingredients are combined. Remove from pan.

6.

Add honey-coated meatballs and sake-soy sauce mixture. Stir constantly and cook until meatballs are heated through. If sauce becomes too thick, thin with a little water.

7.

Top each naan with ¼ cup vegetables and 5 meatballs. Sprinkle with shredded carrots and scallion. Drizzle with extra honey if desired.
Get All Things Butterball Delivered to Your Inbox
Find Your Broker