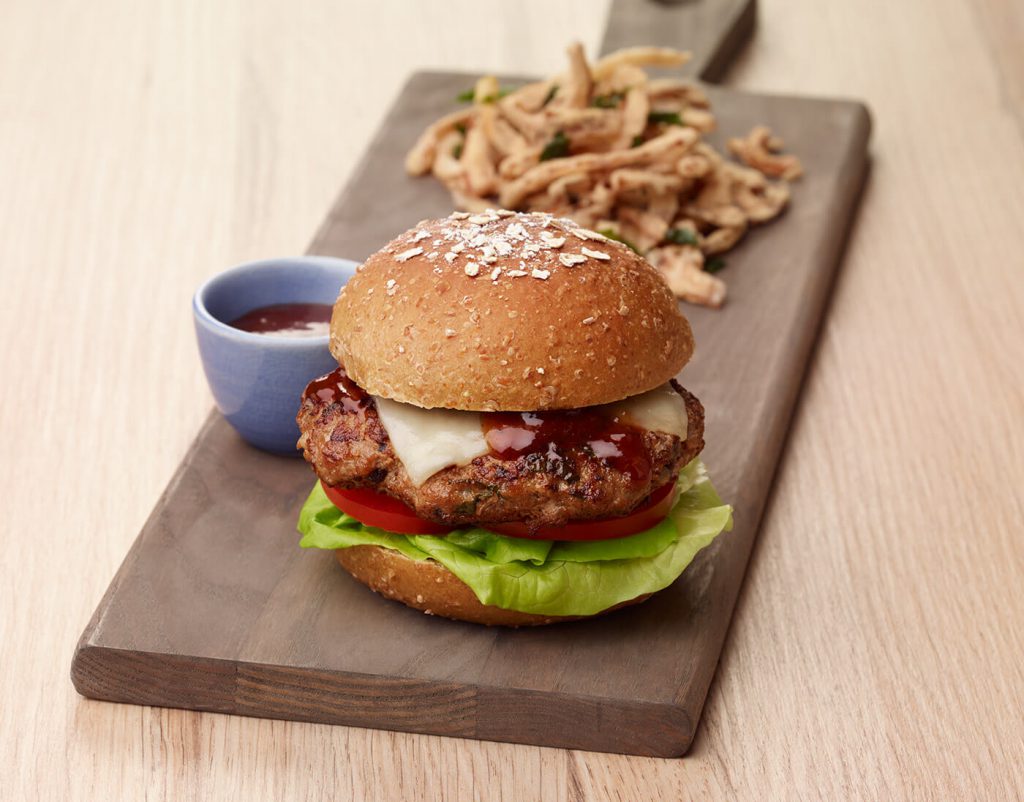 Herbed Turkey Burger
Thyme, garlic and sage are added to a flavorful ground turkey mixture to create this artisan-style turkey burger. Add it to your lunch or dinner menu and suggest a side of fries with house-made cranberry ketchup.
Ingredients
Herbed Turkey Burger
Shallots or whites of green onions, minced
Fresh sage leaves, chopped fine
Turkey or chicken broth, cold
Directions
1.

Combine all ingredients into a stainless steel bowl and blend well. Do not overwork. Refrigerate overnight for easier patty formation.

2.

Form patties from the mixture and place on a tray in the freezer to firm up.

3.

Grill the patties (over medium-high heat) for approximately 12 minutes or until an internal temperature of 165℉ is reached. Turn only once.

4.

Use the cooked patty in your favorite burger build. Consider a toasted oat-crusted bun with lettuce, tomato, Havarti cheese and Cranberry Ketchup.
Recipe Twists
Swap and substitute to make it your own.
Ingredients
Cranberry Ketchup
Whole berry cranberry sauce (Ocean Spray brand)
Directions
1.

Combine all ingredients into a heavy-duty pot and bring to a boil.

2.

Reduce to a simmer and cook for 5 to 10 minutes.

3.

Remove from heat, place into a storage container and cool.
Get All Things Butterball Delivered to Your Inbox
Find Your Broker