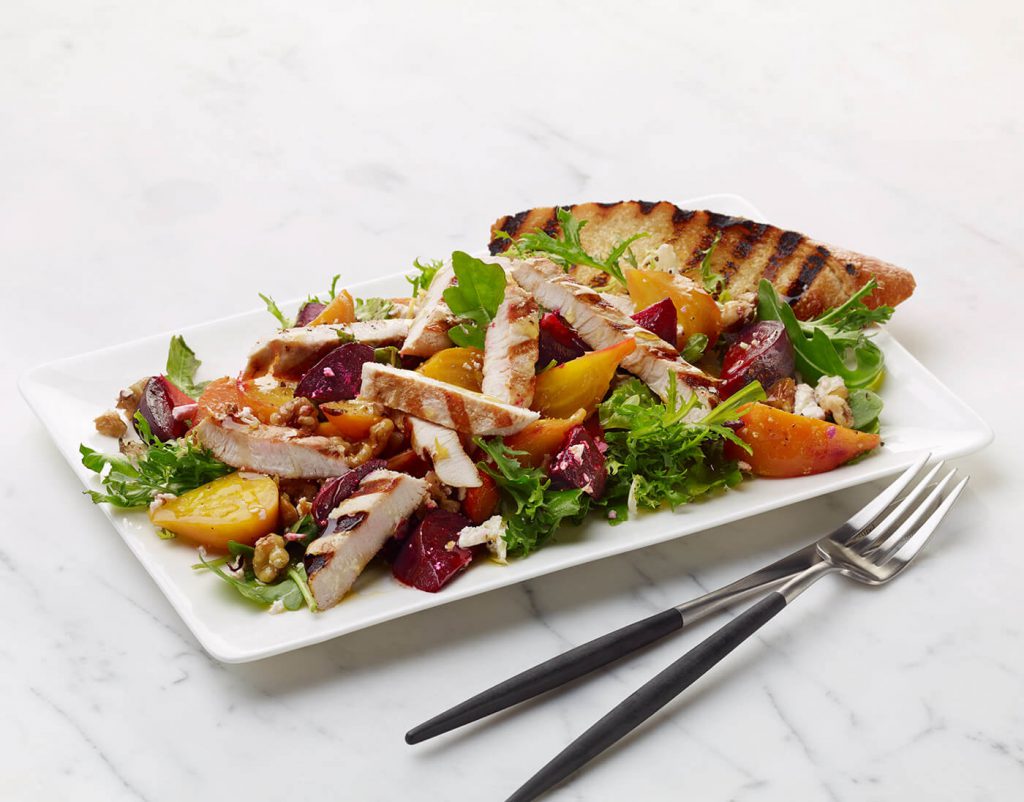 Grilled Turkey and Marinated Beet Salad
Ingredients
Grilled Turkey And Marinated Beet Salad
Red beets, peeled, roasted, 1-inch dice
Golden beets, peeled, roasted, 1-inch dice
Lemon and Red Wine Vinaigrette
French bread, cut on the bias, brushed with olive oil, grilled on both sides
Directions
1.

Combine the beets, basil, spring mix and walnuts in a stainless steel mixing bowl.

2.

Toss and coat well with the Lemon and Red Wine Vinaigrette.

3.

Place the salad into a chilled salad bowl.

4.

To serve, portion the salad onto a plate.

5.

Sprinkle the feta over the top of the salad.

6.

Arrange the grilled turkey onto the salad.

7.

Garnish the salad with 1 slice of French bread.
Ingredients
Lemon And Red Wine Vinaigrette
Directions
1.

Measure the lemon juice and red wine vinegar into a stainless steel bowl.

2.

Add the salt and pepper. Blend well with a whisk.

3.

Slowly pour the olive oil into the seasoned vinegar and lemon juice while whisking.

4.

Place the vinaigrette into a storage container with a lid. Label and date.
Get All Things Butterball Delivered to Your Inbox
Find Your Broker