Using Turkey in Salads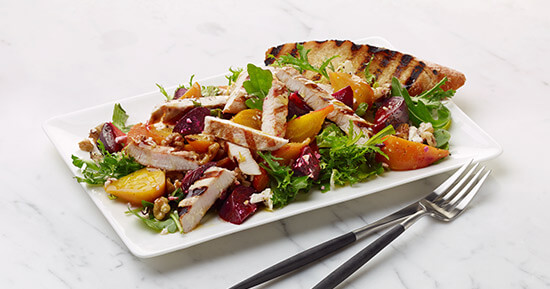 Give diners interesting protein options with our wide variety of turkey products, including turkey bacon, turkey breast filets, turkey medallions and turkey thigh roast. Use these ideas for light, tasty salad substitutions:
Chopped BLT salad with iceberg, spinach, turkey bacon, cherry tomatoes and buttermilk ranch dressing.
Cobb salad with crumbled turkey bacon, iceberg lettuce, romaine lettuce, tomato slices, grilled turkey breast filet strips, hardboiled eggs, avocado and a red wine vinaigrette dressing.
Asian salad with shredded cabbage, toasted ramen noodles, green onions, slivered almonds and shredded turkey thigh roast with a sesame-ginger dressing.
Southwestern salad with turkey medallions, romaine lettuce, fire-roasted salsa, corn, shredded Jack cheese, sour cream and a cilantro vinaigrette.
Visit our Culinary Center to find salad recipes and more.