To QR code or not to QR code?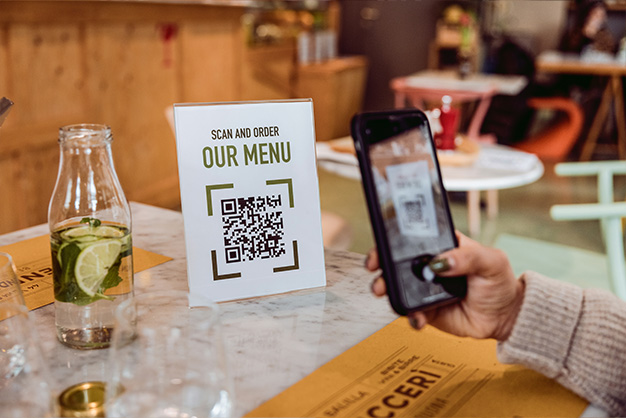 Many restaurants have embraced using QR codes as a safety precaution to make guests more comfortable during COVID-19, but not everyone is a fan. Here's a handy breakdown of the pros and cons of using QR codes at your establishment:
Pros:
Make guests feel safer. 67% of consumers see QR codes as more sanitary than paper menus, which can increase germ spread.
Save time and cut costs. QR codes allow operators to update the menu in real-time to account for shortages and price changes. Linking the codes to a digital menu will save you the time and money usually spent on delivering, collecting, printing and cleaning physical menus.
Allow you to optimize guest experience. When guests order from a digital menu, operators can set it up to collect info on guests' favorite dishes or allergies, which can be used to optimize future visits.
Increase profits. Using QR codes to drive to a digital menu may allow restaurants to adjust prices in real-time to account for traffic levels. For example, operators can surge prices on a packed Friday night, or lower prices to convince more guests to venture out on a rainy Tuesday.
Cons:
Create "extra work" for guests. 57% say QR codes menus feel like a chore.
Disrupt guest experience. 66% don't want to have to immediately look at their phone after sitting down, and 50% say they lessen the dining experience.
May alienate older guests. 55% say QR code menus are harder to read and browse through. And according to the ACLU, 40% of people over the age of 65 still lack a smartphone, meaning they would be unable to access or order from a digital menu.
Could expose guest info to hackers. QR codes can be an opportunity for criminals to plant malware and track your location or payment information.
Your best bet: adopt a hybrid system
When asked whether they prefer to order from a paper or a digital menu, 88% of customers said they preferred paper menus, while 12% said they preferred QR code menus. With these pros and cons in mind, consider a hybrid model in which you offer both options, as the more accommodations you provide guests, the more profits you'll likely see.
How do you think QR codes could improve the industry? Share your thoughts on our Facebook or LinkedIn page. Or visit our Resource Center for more tips and trends.
Sources:
https://www.washingtonpost.com/opinions/2022/06/15/against-qr-code-restaurant-menus/
https://www.eater.com/22828068/qr-code-menu-trend-pros-cons
Technomic May 2022 Omnibus consumer survey
https://www.bartonesq.com/news-article/take-the-paper-menu-avoiding-qr-code-security-risks/