Morning Flavor All Day Long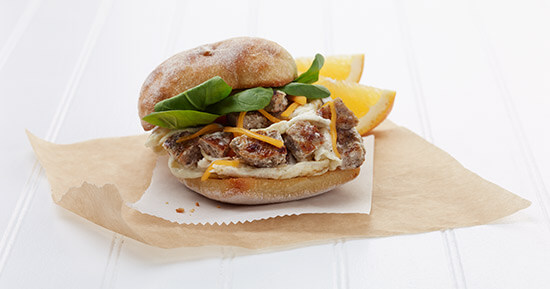 Maybe because breakfast is famously "the most important meal of the day," lately customers can't get enough of the meal, even outside its traditional hours. Especially when it comes to younger generations and C&U foodservice students, breakfast is no longer just a daypart—it can (and should) be eaten any time of day.
Colleges are the most likely of any foodservice segment to offer some sort of breakfast throughout the day. Add to that, three times as many Millennials are in restaurants during the late night and overnight. To appeal to those younger crowds, and to boost sales all day, breakfast must be exciting and run past regular breakfast hours.
All customers want breakfast fast, portable and any time of day. Technomic found that 46% of consumers say they would like breakfast to be served all day. The days of "missing the morning menu" should start to fade.
Since portable breakfasts with premium ingredients are redefining the landscape, start by offering exciting breakfast items all day long and see how your patrons respond. Like a Breakfast Turkey Flatbread, with a flatbread that's been grill-warmed and topped with grilled turkey sausage breakfast links or patties; diced, scrambled eggs; diced tomatoes and sliced avocado served with pico de gallo. Or try menuing a Brunch Turkey Burger, with a large English muffin toasted and topped with a grilled turkey burger, sliced Cheddar cheese, crisp turkey bacon and a fried egg.
Find more high-flavor breakfast items that can be a hit all day long, like Turkey Breakfast Tacos, in our Inspiring Recipes section.
SOURCES:
NRN, "Consumers like breakfast all day, study finds"
Foodservice Director, "The Big Picture—Everyone Loves Breakfast"
DPAA Newsletter, Q1 2013 "Millennials and Boomers Dine Out"