Go Sweet or Savory with Mango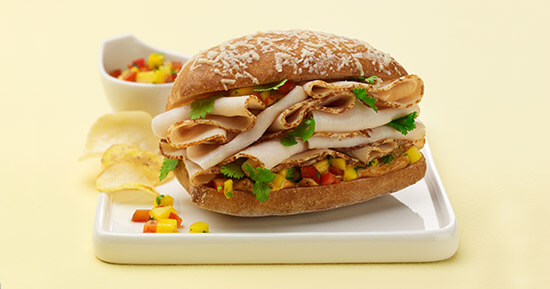 Diners can't get enough of mango flavor. Versatile mangoes are available year round, and they fit in perfectly with a number of ethnic food trends. Give them a try with these menu tips:
Condiments: Mangoes make deliciously complex sauces and salsas. The sweetness of mango complements cool mint and tangy citrus in the mango mint relish used in this recipe for Smoked Jerk Turkey Thighs. Use mangoes in salad dressings, marinades and more for a hint of exotic flavor.
Desserts: From fruit salads to ice cream and cake, mango can be used in an endless variety of dessert favorites.
Drinks: Mango is often the star of the lassi, a traditional Indian yogurt-based beverage. A lassi can be your next warm-weather special, or a new addition to your ethnic-inspired menu section. Mangoes are also perfect for making smoothies and frozen cocktails.