Go Global with Turkey Burgers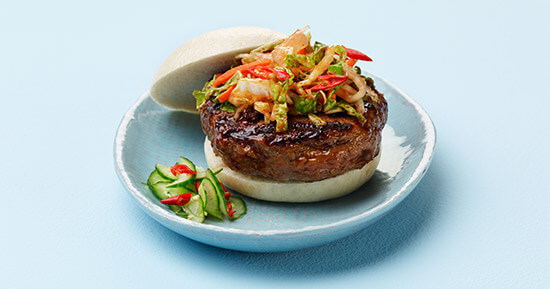 The ethnic trend is here to stay, which is great for operators because it means more flavors to explore for inspiration. Offering globally inspired turkey burgers can differentiate your menu and open your operation to more traffic and culinary adventurers. In fact, three out of four consumers purchase ethnic foods away from home at least once a month.
How can you make it work easily? Start with a grilled turkey burger, which appeals to nearly half of all diners, and take that burger on a trip across the globe with condiments and toppings.
KOREAN: Korean BBQ Turkey & Shrimp Burger—Ground turkey blended with chopped shrimp, flame grilled and brushed with Korean BBQ sauce. Topped with julienned carrots, green onions and cilantro on a steamed bun.
FRENCH: Goat Cheese-Stuffed Turkey Burger—Turkey burger grilled and stuffed with sliced goat cheese. Topped with strawberry-tomato salsa on a butter-toasted brioche roll.
MEXICAN: Jalapeño Turkey Burger—Start with a warmed flatbread and add a grilled turkey burger, ranch dressing, sliced jalapeños, Cheddar cheese, crispy chopped turkey bacon and sliced avocado.
ITALIAN: Turkey Burger Caprese—Flame-grilled turkey burger with a balsamic glaze, topped with fresh mozzarella, vine-ripe tomatoes, basil mayonnaise and watercress on a butter-toasted ciabatta.
INDIAN: Indian Flavors Burger—Ground turkey blended with ginger, garlic and cumin. Topped with mint-coriander chutney, tomato and onion on a steamed bun.
Want more great EZ Menu Ideas? Visit our Inspirations section of Turkey Time.
SOURCE:
Technomic, "Ethnic Food & Beverage Consumer Trend Report," August 2012