Benefits of the Micro-Influencer
September 2021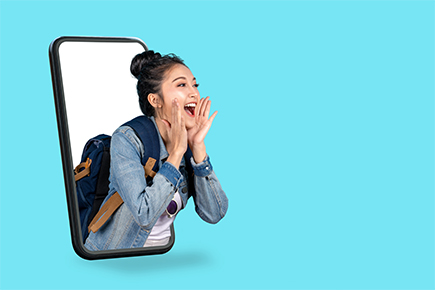 We all know what an influencer is, but did you know that there are many different types? The influencer marketing industry is booming with billions of dollars being spent, as businesses pay highly followed social media users to promote their products or offerings. While tapping into the follower base of an influencer with millions of followers may be too expensive for many operators, restaurants can still find great success by tapping into micro-influencers.
Micro influencers are defined as accounts with 1,000 to 100,000 followers who are well known in their niche with a hyper-targeted audience. Many followers of micro influencers have a more personal connection with their content because its often viewed as more genuine and approachable. Micro influencers typically engage more often with their audience as well, which likely increases the impact their recommendations have. Research suggests that 63% of consumers trust what these influencers say about brands and 82% are likely to follow a micro influencer's recommendation. As an operator, you can take advantage of this strong connection by recruiting an influencer to promote your establishment.
Micro-influencers are incredible for smaller brands, as they tend to be a more budget-friendly option. In addition, they often believe in what they promote more than their macro counterparts. In fact, micro-influencers have seven times more engagement than mid-, macro-, and mega-influencers combined. When it comes to worldwide brands, quite a few have tapped into the micro-influencer market. Last year, 300% more micro-influencers were utilized by large firms compared to 2016. From McDonald's promoting McCafé buttermilk crispy tenders with 14 Instagram influencers, to Burger King collaborating with 17 influencers for the return of its Cheesy Tots, many of these brands have seen significant engagement. Even Subway used micro-influencers to showcase its presence at several U.S. music festivals during the summer of 2017. That campaign generated 49k likes, 649 comments, and an average engagement rate of 7.6%.
A new way for regional or independent establishments to tap into the micro-influencer market is by partnering with local college athletes. As of June 2021, the NCAA is allowing college athletes to make money off of their likeness. While not every student athlete will wield influence, operators in towns with extremely competitive college sports teams or immensely passionate fans could find themselves with a host of potential influencers to consider.
As a restaurateur, consider implementing micro-influencers into your marketing strategy to help further communicate the personality of your brand as well as drive awareness or traffic. Micro-influencers can have an amazing impact, but make sure you think very carefully about who you want to promote your business. It is important that they align with your values and business ideals, and more importantly, that they will resonate with your target audience. Share your experience with influencers on our Facebook or LinkedIn page. Or visit our Resource Center or Recipe Page for even more inspiration.
Resources