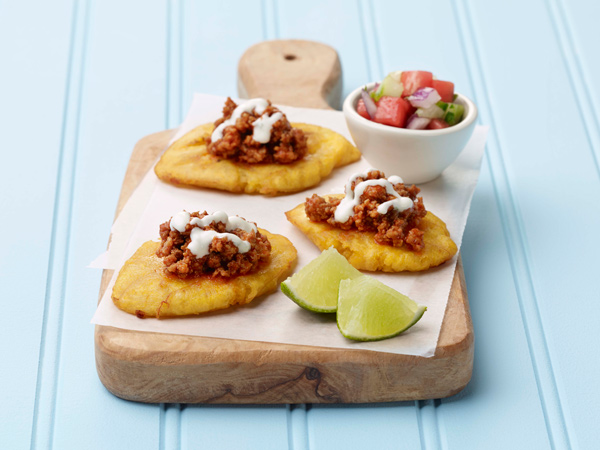 Turkey Taco Tostones
These little bites of turkey taco goodness feature a delicious harmony of sweet, spicy and zesty flavors. A dollop of honey lime sour cream completes the multifaceted taste adventure. Serve as an appetizer or happy hour special, or add watermelon salsa for a filling lunch or dinner.
Ingredients
Turkey Taco Tostones
Yield: 9 tacos
Directions
1.

Warm the tostones.

2.

Fill each with ⅓ cup of Turkey Carnitas, 2 tablespoons of pickled onions and 1 tablespoon of jalapeños. Top each with ½ ounce of queso fresco and 1 ¾ tablespoons of cilantro leaves and drizzle with about 1 tablespoon of Honey Lime Sour Cream.

3.

Serve in a warm cast-iron skillet with the Spicy Watermelon Salsa and lime wedges for garnish.
Ingredients
Turkey Carnitas
Hatch pepper seasoning (Carolina ingredients)
Directions
1.

Heat the oil in a heavy-duty pot, and then add the ground turkey and cook until it's lightly browned.

2.

Add the remaining ingredients and blend well. Bring to a boil; simmer for 5 minutes.

3.

Place the turkey in a 4-inch aluminum half-size pan and cover with a lid.

4.

Heat in a preheated 350°F oven for approximately 45 minutes (until the turkey reaches 165°F).
Ingredients
Honey Lime Sour Cream
Directions
1.

Combine all the ingredients and blend well.

2.

Place in a storage container; cover, label and date. Refrigerate.
Ingredients
Spicy Watermelon Salsa
English cucumber, peeled, seeded
Crystallized ginger, finely chopped
Directions
1.

Whisk the lime juice, honey, soy sauce and seasonings in a large bowl.

2.

Add the watermelon and all remaining ingredients; toss gently. Adjust the seasoning.

3.

Refrigerate for 1 hour before serving.
Get All Things Butterball Delivered to Your Inbox
Find Your Broker