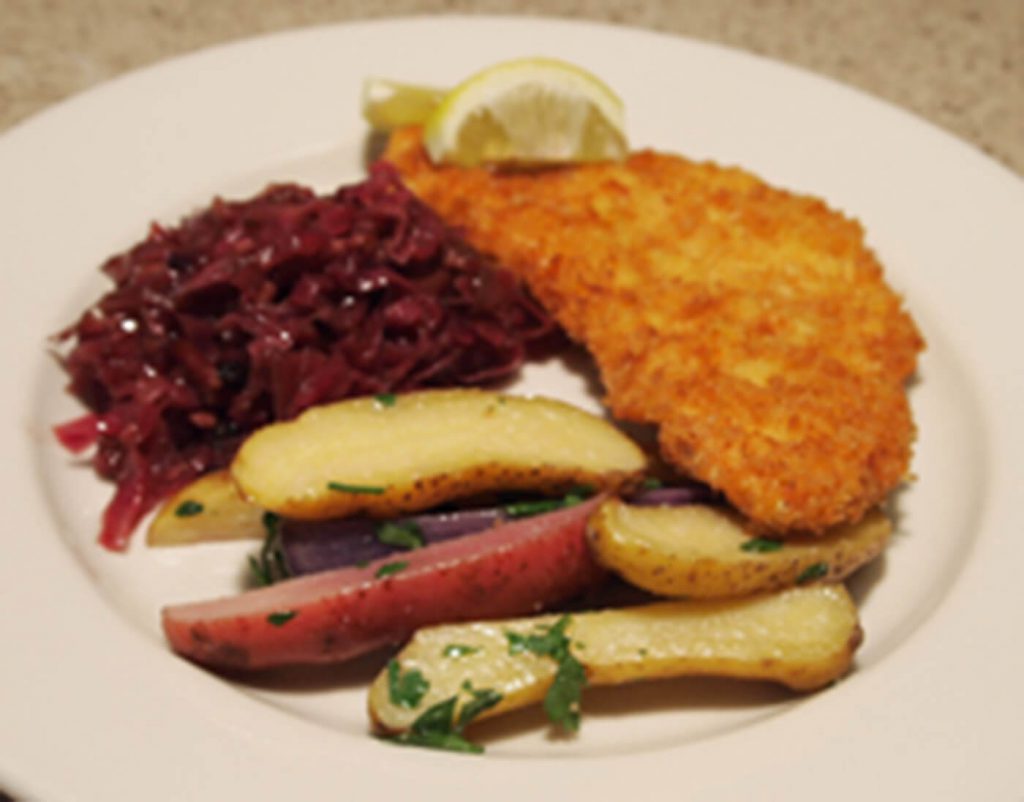 Turkey Schnitzel with Cabbage and Potatoes
Ingredients
Turkey Schnitzel with Cabbage and Potatoes
Flour seasoned with salt and pepper
White breadcrumbs or Panko
Caraway Buttermilk Potatoes, hot*
Braised Red Cabbage, hot*
Directions
1.

Prepare three shallow baking pans for the breading process—one containing seasoned flour, one containing beaten eggs and one containing breadcrumbs.

2.

Remove Turkey Breast Filet from packaging and cover with plastic wrap. Tenderize with meat mallet until approximately 1/8 inch thick.

3.

Fry until coating is golden brown.

4.

Serve topped with lemon slice, along with Caraway Buttermilk Potatoes and Braised Red Cabbage.
Ingredients
Caraway Buttermilk Potatoes
Fingerling potatoes (red, purple, white)
Fresh ground black pepper
Directions
1.

Combine potatoes, caraway seeds, buttermilk, sea salt and black pepper in a large pot. Bring to a boil and simmer for 20–25 minutes until tender.

2.

When tender, toss with butter and adjust the sea salt and black pepper to taste.
Ingredients
Braised Red Cabbage
Turkey bacon, cut into ¼ inch pieces
Red cabbage, core removed and shredded
Directions
1.

Place bacon into a large heavy-duty pot; cook until almost crisp. Add the onions and sauté for 8 minutes.

2.

Add the cabbage and all remaining ingredients.

3.

Bring to boil and simmer for 1 hour to 1 hour 15 minutes until soft; stir every 20 minutes.

4.

Adjust sea salt and black pepper to taste.

5.

Serve.
Get All Things Butterball Delivered to Your Inbox
Find Your Broker