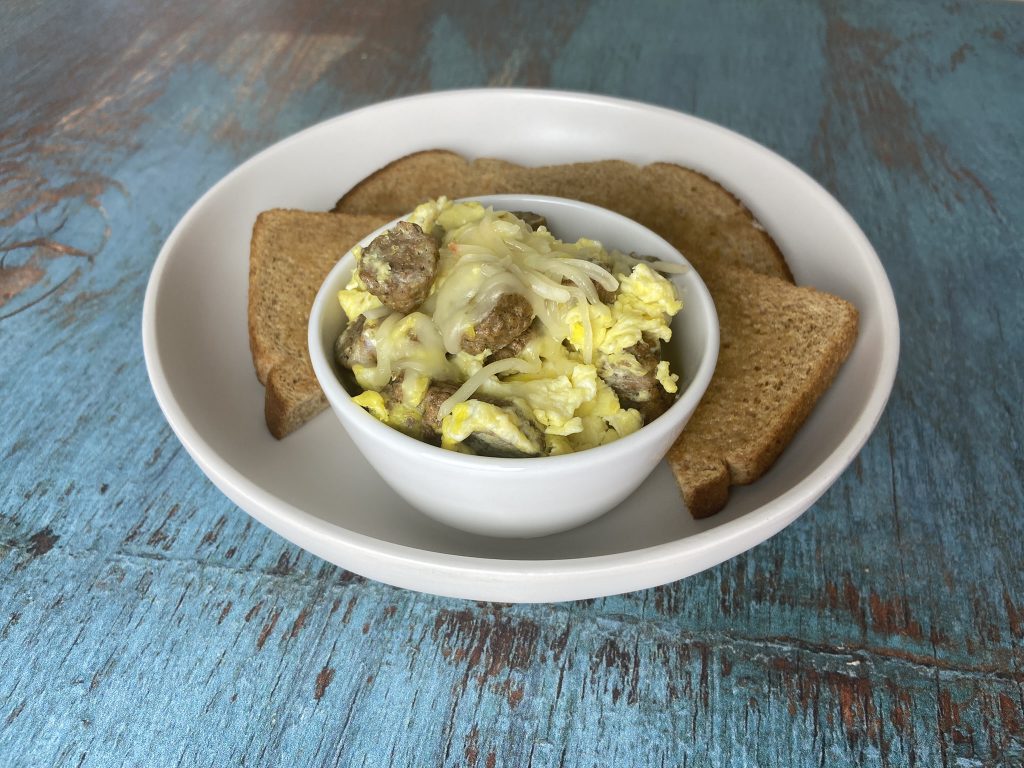 Turkey Sausage, Egg & Cheese Scramble Bowl
Ingredient
50 Portions
100 Portions
Butterball All Natural Breakfast Sausage Links, chopped
50 Portions 4 lbs. 6 ½ oz.
100 Portions 8 lbs. 13 oz.
50 Portions 1 spray
100 Portions 2 sprays
Liquid whole eggs, frozen, thawed, USDA or commercial
50 Portions 5 lbs. 10 oz. (2 qts. 2 ½ cups)
100 Portions 11 lbs. 4 oz. (1 gal. 1 qt. 1 cup)
50 Portions 2 tbsp.
100 Portions ¼ cup
50 Portions 2 tbsp.
100 Portions ¼ cup
Pepper jack cheese, shredded, USDA or commercial
50 Portions 12 ½ oz.
100 Portions 1 lb. 9 oz.
Whole grain-rich toast (at least 1 oz. eq each slice)
50 Portions 100 slices
100 Portions 200 slices
50 Portions 1 lb.
100 Portions 2 lbs.
Thaw sausage links in cooler two days before preparation.
Chop sausage with pastry scraper or a knife.
Preheat oven to 375° F. For every 50 servings, generously spray one 12" x 20" x 4" steamtable pan with cooking spray. Place 2 qts. 2 ½ cups eggs, 2 tbsp. granulated garlic, 2 tbsp. onion powder, and 4 lbs. 6 ½ oz. sausage into each pan. Note: slowly sprinkle and whisk seasoning into eggs to avoid clumping. Stir. Bake for 5 minutes. Remove from the oven and stir eggs to remove cooked egg from the edges. Cook in 5-minute increments, stirring each time until eggs are no longer runny and internal temperature reaches 165° F. Remove from the oven, and chop into small pieces. Note: for fast and easy cutting, use a dough scraper.
Melt margarine in steamer and lightly spread on bread with pastry brush.
To toast bread, evenly place single layers of bread on sheet pans and toast in oven at 400° F for 2-3 minutes. Place toast in steamtable pan and serve. Do not hold in warmer. Note: bread may be buttered before or after toasting.
Serve #8 scoop packed (½ cup) turkey sausage scrambled eggs topped with 1 tbsp. (¼ oz. weight) shredded pepper jack, and 2 slices of toast on the side.
CCP: Hold thawed sausage links at 41° F or lower. Heat egg and sausage mixture to 165° F or higher for 15 seconds and hold at 140° F or higher.
Nutrients per Serving
Show More
Meat/Meat Alt 3.25 oz. eq.
Get All Things Butterball Delivered to Your Inbox
Find Your Broker