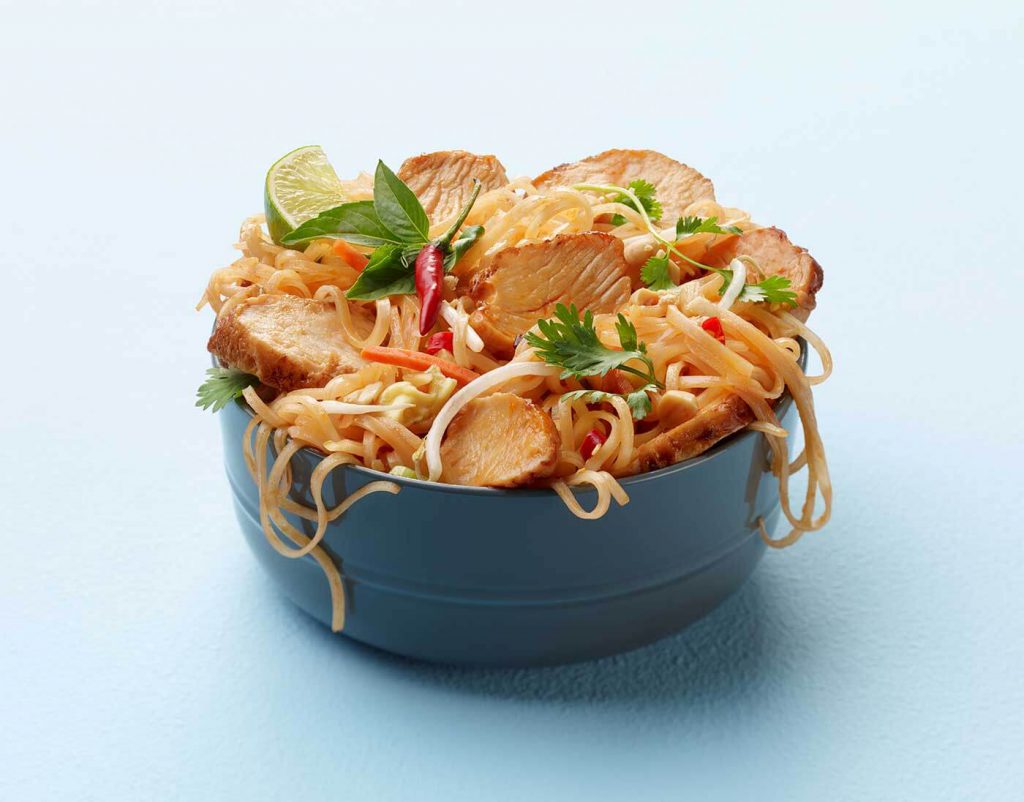 Ingredients
Turkey Pad Thai
Yield: 2 bowls
Green onions, sliced thin
Peanuts, toasted and crushed
Rice noodles (soaked in warm water for 30 minutes)
Peanuts, toasted and chopped
Directions
1.

Heat a sauté pan with the peanut oil until very hot.

2.

Add the Turkey Medallions and Thai peppers. Sear and stir-fry for 20–30 seconds.

3.

Add the garlic, 4 tablespoons of green onions, the crushed peanuts, the carrots and ¾ cup of bean sprouts. Stir-fry for 30–45 seconds.

4.

Add the raw egg and stir-fry into the vegetables.

5.

Add the soaked noodles and the Pad Thai Sauce. Bring to a boil.

6.

Toss and blend the noodles well with all of the ingredients in the pan.

7.

Pour into a serving bowl, bringing the Turkey Medallions to the top.

8.

Garnish with ¼ cup of bean sprouts and 1 tablespoon each of green onions, chopped peanuts and cilantro.
Ingredients
Pad Thai Sauce
Yield: 4 quarts
Directions
1.

Combine all the ingredients in a heavy-duty saucepan and blend well with a wire whip.

2.

Bring to a boil, and then reduce to a simmer over medium-low heat.

3.

Pour the sauce into a storage container and cool down in an iced water bath.

4.

Once the sauce is cool, cover and refrigerate.
Get All Things Butterball Delivered to Your Inbox
Find Your Broker