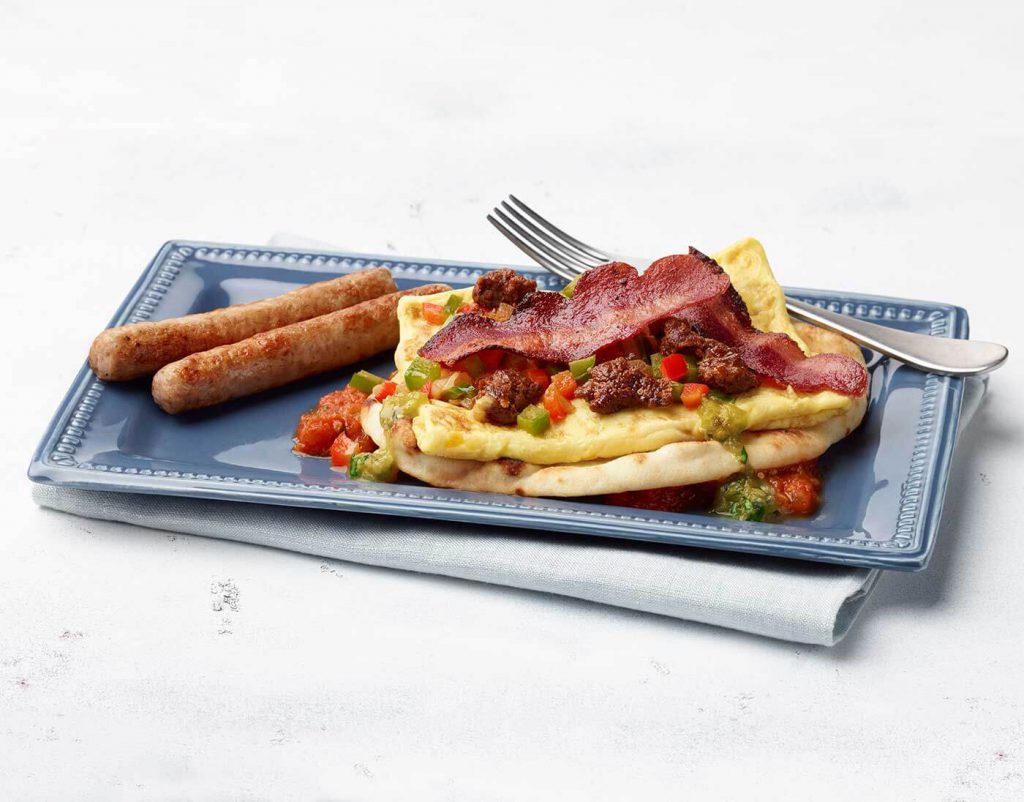 Turkey Omelet Flatbread
Wake up diners' taste buds with flavorful chorizo that blends Mexican oregano, cinnamon, allspice, crushed red pepper and red wine vinegar. Serve this flatbread for breakfast or brunch with sausage links or spicy, crispy hash browns on the side and fresh juice or Mexican hot chocolate to drink.
Ingredients
Turkey Omelet Flatbread
Diced peppers (red and green), sautéed
Cheddar and jack cheeses, shredded
Naan bread (about 6–7 inches)
Salsa Verde or roasted tomato salsa
Zesty Lime Sour Cream, drizzle (optional)
Directions
1.

Spread a thin layer of beaten egg over the griddle.

2.

Heat the peppers, onions, turkey chorizo and bacon, and cheeses on the griddle. Place half the amount on a third of the omelet. Fold the top and bottom of the omelet to the center, about 5 ½ inches wide. Roll the omelet from left to right (it will be about 2 ½ inches wide).

3.

Arrange the other half of the combined ingredients over the omelet.

4.

While the omelet is cooking, heat the naan bread on a lightly buttered griddle.

5.

Drizzle the Salsa Verde over the warm naan bread. Arrange the omelet on the naan bread.

6.

Set the flatbread on a serving plate and top with a drizzle of the Zesty Lime Sour Cream (optional).

7.

Serve with 2 turkey sausage links.
Ingredients
Salsa Verde
Fresh tomatillos (husk removed, rinsed)
Sweet yellow onion (6 oz.), peeled and quartered (do not remove the core)
Fresh cilantro (heavy stems removed, chopped)
Fresh oregano (heavy stems removed, chopped)
Freshly ground black pepper
Directions
1.

Preheat a charbroiler or charcoal grill to medium-high heat.

2.

Grill the tomatillos, onions and peppers to a char on all sides, about 8–10 minutes (note—the tomatillos, onions and peppers will char at different times). Cool the peppers, then remove the charred skins and the stems.

3.

Place 1 tablespoon of the oil in a small sauté pan and sauté the charred vegetables, then cool.

4.

Place all the tomatillos, peppers, onions, cilantro and garlic into a food processor and puree with the oregano, cumin, salt, pepper and half the amount of sugar.

5.

Heat the remaining oil in a large sauté pan over very high heat. When the oil is very hot, fry the salsa (being extremely careful, pour the salsa into the oil and stir and cook for 2 minutes).

6.

Add the chicken stock, lime juice and remaining sugar. Bring to a boil, then simmer for 8–10 minutes (salsa will thicken).

7.

Remove from the heat and adjust the seasoning.
Recipe Twists
Swap and substitute to make it your own.
Ingredients
Zesty Lime Sour Cream
Tabasco chipotle pepper sauce
Directions
1.

Combine all the ingredients and blend well.

2.

Place the leftover Zesty Lime Sour Cream in a storage container with a lid. Label, date and refrigerate.
Get All Things Butterball Delivered to Your Inbox
Find Your Broker