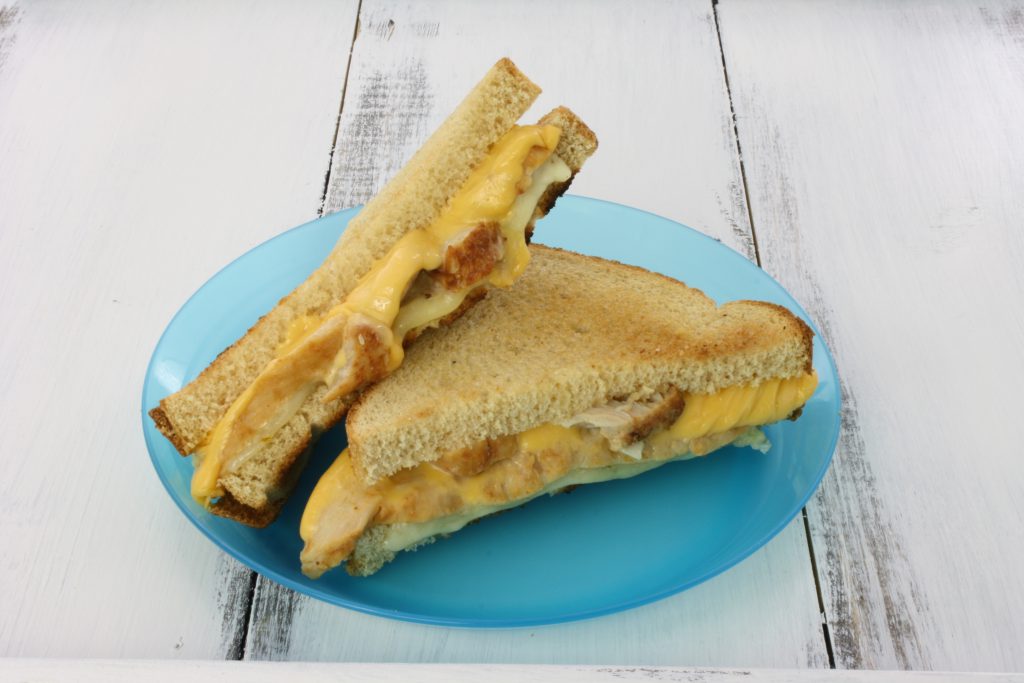 Ingredient
50 Portions
100 Portions
Oil, Pam Original Cooking Spray
50 Portions 6 sprays (about 1/3 sec. ea.)
100 Portions 12 sprays (about 1/3 sec. ea.)
50 Portions 7 lbs. 1 oz.
100 Portions 14 lbs. 2 oz.
Pepper jack cheese, sliced
50 Portions 1 lb. 9 oz.
100 Portions 3 lbs. 2 oz.
Yellow American cheese, sliced, pasteurized, USDA
50 Portions 3 lbs. 2 oz.
100 Portions 6 lbs. 4 oz.
Thaw the case of turkey medallions in the refrigerator the day before use.
Remove the turkey from the refrigerator and chop the medallions into smaller pieces using a pastry cutter or scraper.
Place 10 lbs. worth of turkey medallions per 4" full steam table pan.
Preheat an oven to 350°F for convection, 400°F for conventional.
Prepare baking sheets with parchment paper.
Spray the cooking spray on 1 side of each slice of bread. Place 1 slice of pepper jack cheese on half of the bread slices. Top with 1 ⅘ oz. (2 oz. ladle) of turkey. Top the turkey with 2 slices of American cheese and place the other slice of bread, sprayed side up, on top of the sandwich.
Bake the sandwiches for 8–10 minutes or until the cheese is melted and bread is toasted. Serve.
CCP: Heat the poultry to 165° F degrees or higher for 15 seconds. Hold at 140° F degrees or lower.
Nutrients per Serving
Show More
Meat/Meat Alt 2 ½ oz. eq.
Get All Things Butterball Delivered to Your Inbox
Find Your Broker