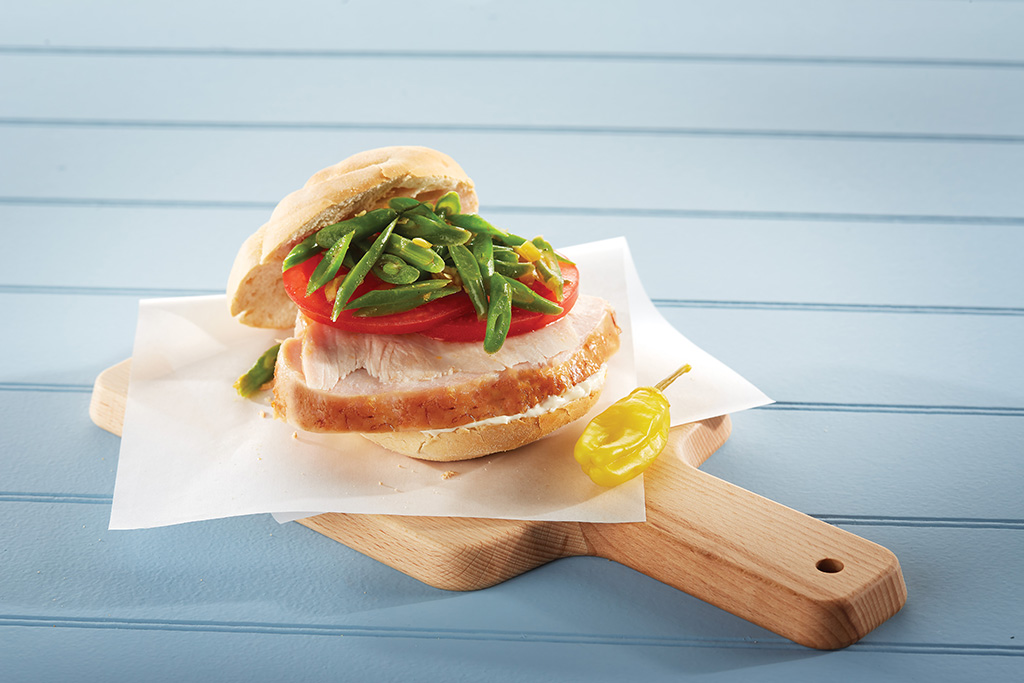 Turkey Chacarero
Serve up global flavors in this offering inspired by the traditional Chilean sandwich. This dish combines sliced turkey breast with spicy sauteed green beans, pepperoncini and fresh tomato slices with creamy, garlicky aioli to satisfy both adventurous and health-conscious diners.
Ingredients
green beans, sliced on a sharp bias and blanched
medium, very ripe tomatoes, sliced
dense, flat, round sandwich rolls, split
Salt and freshly ground black pepper, to taste
Directions
Prepare the turkey and rolls:

1.

Use ½ cup mayonnaise to brush one side of each turkey slice and both sides of each roll. Set aside remaining ¼ cup mayonnaise for serving. Add a bit of char to the turkey and sandwich rolls on a grill or flattop.

Make the beans:

1.

In a large skillet over medium heat, warm the olive oil. Add the pepperoncini, paprika, cayenne and coriander and sauté for about 30 seconds, until fragrant. Stir in the beans and sauté until hot and tender. Season to taste with salt and pepper.

To assemble:

1.

On the bottom half of the rolls layer onion, tomato and turkey. Top each with a mound of beans and press the top of the roll onto the sandwich. Serve immediately, with more aioli on the side.
Get All Things Butterball Delivered to Your Inbox
Find Your Broker