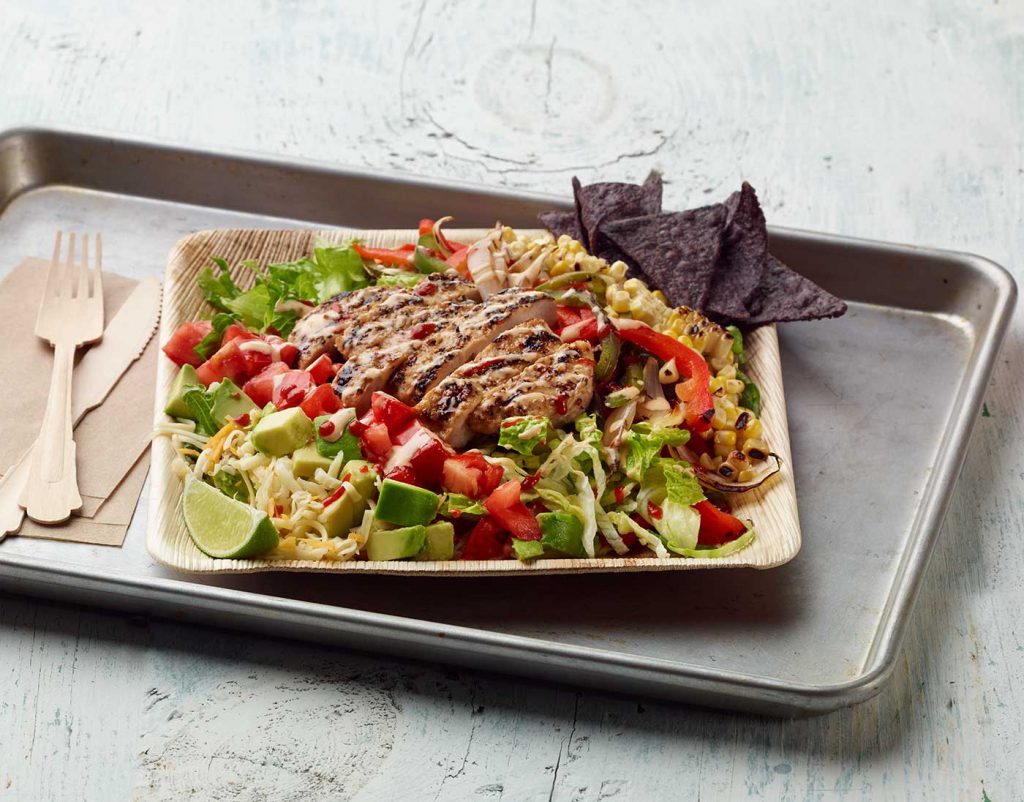 Turkey Burger Fajita Salad
This salad offers the delicious taste of a turkey burger in a better-for-you format. Peppers, avocado, habanero sauce and a salsa-flavored dressing bring a Mexican fusion twist to the mix.
Ingredients
Turkey Burger Fajita Salad
Iceberg and romaine lettuce, shredded
Jack-and-cheddar cheese blend
Directions
1.

Fill the bottom of the plate with the shredded lettuce.

2.

Grill the onions and peppers. Once they are cooked, combine them with the roasted corn kernels and hold on the side.

3.

Prepare the grilled White Turkey Burger. Once it is cooked, cut the burger patty into half-inch slices.

4.

Across the plate, portion out the ingredients as follows: Jack and cheddar cheeses; diced avocado; diced tomato; burger patty slices; and a combination of corn, onion and peppers.

5.

Drizzle with Salsa Ranch Dressing and habanero hot sauce.

6.

Add chips and a lime. Serve.
Ingredients
Grilled White Turkey Burger
Yield: 1 burger
White Worcestershire sauce
Montreal steak seasoning, as needed
Directions
1.

Combine the oil and white Worcestershire sauce and blend well.

2.

Brush both sides of each turkey burger with the seasoned oil.

3.

Season both sides lightly with Montreal steak seasoning.

4.

To cook, follow the package instructions for sautéing or grilling.
Ingredients
Salsa Ranch Dressing
Yield: 1 quart
Jalapeños, small dice, seeds removed
Directions
1.

In a stainless steel bowl, combine the tomatoes, cilantro, jalapeños, garlic, chili powder and black pepper. Blend well.

2.

Add the ranch dressing to the tomato mixture and blend well.

3.

Refrigerate for at least 2 hours before use.
Get All Things Butterball Delivered to Your Inbox
Find Your Broker