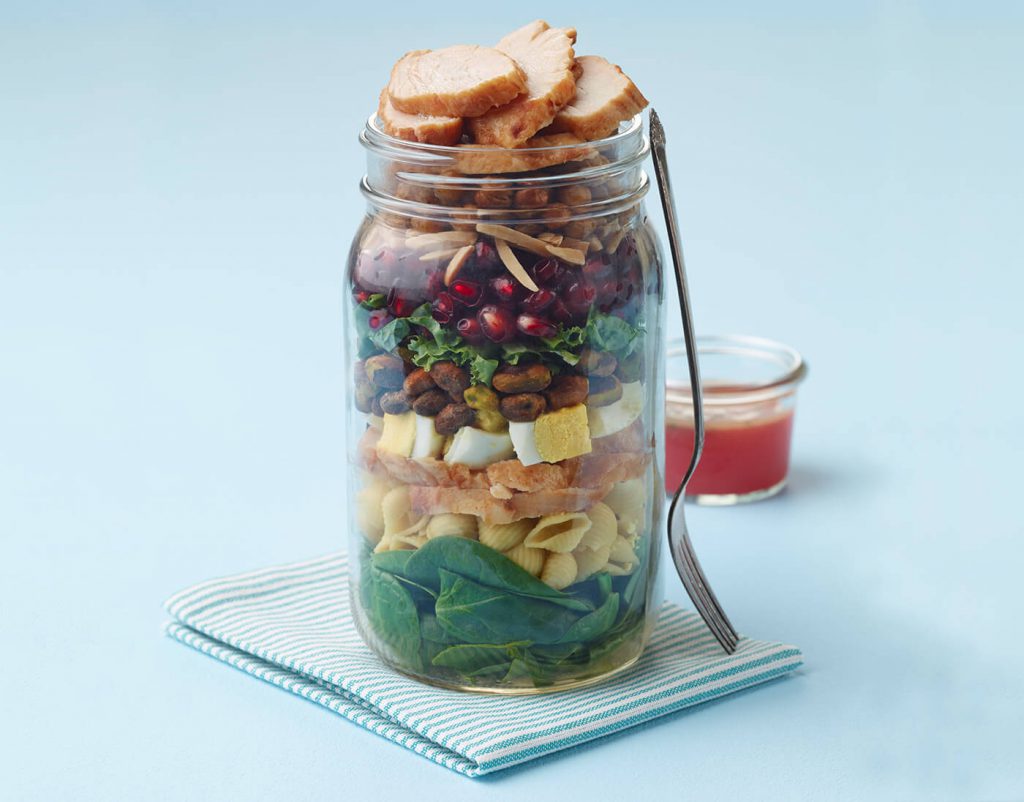 Mediterranean Power Salad
A perfect pick for patrons on the go, this salad shines as a better-for-you lunch or dinner option. A tangy blood orange vinaigrette accents popular ingredients like quinoa pasta shells, garbanzo beans and turkey medallions. Keep it fresh and delicious by serving with fruit-infused water.
Ingredients
Mediterranean Power Salad
Kale, cleaned, heavy stems removed
Slivered almonds, toasted
Garbanzo beans, crispy, roasted
Quinoa pasta shells, cooked
Egg, hard-cooked, sliced with an egg slicer
Directions
1.

Combine the kale, spinach, almonds, pistachios, garbanzo beans, quinoa pasta shells and Blood Orange Vinaigrette in a bowl large enough to toss the ingredients. Blend well.

2.

Place the tossed ingredients into a salad bowl.

3.

Garnish the top of the salad with the hard-cooked egg, and then neatly arrange the turkey medallions on top of the salad. Sprinkle with the pomegranate seeds, and add the blood orange segments.

4.

Serve.

TIP.

For a more dramatic presentation, layer all the ingredients in a glass jar. Top with more turkey medallions. Provide an empty bowl for patrons to shake the salad into.
Ingredients
Blood Orange Vinaigrette
Directions
1.

Blend together all the ingredients except for the olive oil, mint and basil.

2.

Slowly whisk in the olive oil, and adjust the salt and pepper to taste.

3.

One hour prior to using the vinaigrette, fold in the basil and mint.
Get All Things Butterball Delivered to Your Inbox
Find Your Broker