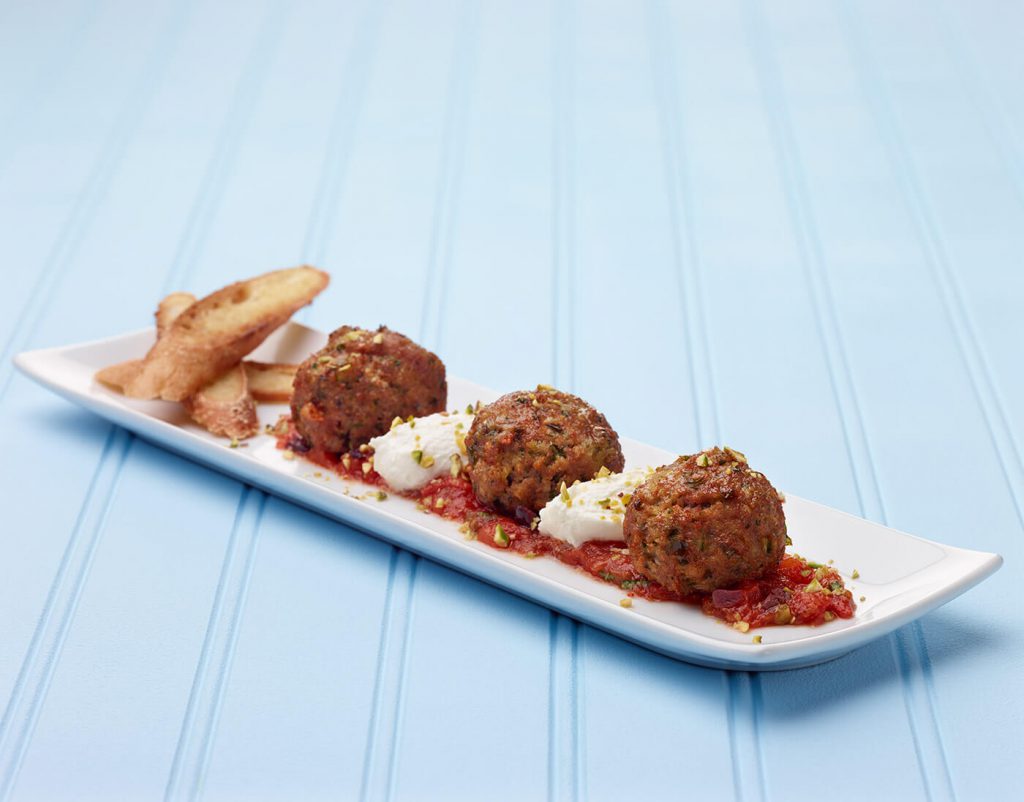 Brooklyn-Style Turkey Meatballs
These savory ground turkey meatballs have a hint of basil for extra-fresh taste inspired by Italy. Serve with house-made sauce on crunchy French bread with pistachios for garnish. Add a glass of pinot noir, and your latest happy hour special is ready.
Ingredients
Brooklyn-style Turkey Meatballs
Yield: 24 meatballs
Yellow onions, small dice
Green onions, green and white portions, small dice
Marinara sauce, as needed
Pistachios, chopped, as needed
Directions
1.

Combine the yellow onions, green onions, garlic, parsley leaves and fresh basil in a stainless steel bowl, and blend well.

2.

Place the mixture into a food processor with a knife blade, and pulse to chop. Do not puree.

3.

Place the Italian bread into the bowl of the food processor, and chop into crumbs.

4.

In a very large mixing bowl, combine the chopped vegetables, cheese, bread crumbs, broth, egg and seasonings, and blend well.

5.

Add the ground turkey. Blend well by hand only, being very careful not to overmix. Refrigerate for 30 minutes. Meatballs must be formed and cooked within 4 hours of mixing preparation.

6.

Form the meatballs with a #16 scoop. Round by hand with a thin coating of oil on your hands.

7.

Fry the meatballs in oil in a cast-iron skillet (oil temperature 340°F) until they're golden brown on all sides, and cook to 165°F internal temperature.

8.

After the meatballs are cooked, allow them to cool for 20 minutes. Serve over marinara sauce or Sauce Pizzaiolo.

9.

To serve, pour some sauce in a serving casserole and arrange 3 meatballs on top. Over the meatballs, sprinkle the ricotta and chopped pistachio nuts. Garnish with a slice of French bread on the side.

10.

To store, place the meatballs in a container, covered with marinara sauce. Label, date and refrigerate. To reheat, place the meatballs and sauce in a heavy-duty saucepan (1 quart of sauce and 1 ¼ cups of water per 20–25 meatballs). Bring to a boil, and simmer for 30–35 minutes.
Recipe Twists
Swap and substitute to make it your own.
Ingredients
Sauce Pizzaiolo
Garlic cloves, minced or pressed
Fresh sage leaves, chopped
Italian plum tomatoes, crushed with juice (San Marzano)
Black pepper, freshly ground
Fresh Italian parsley, chopped
Fresh basil, chiffonade (packed tightly in a cup)
Directions
1.

In a sauté pan, heat the oil over medium-high heat. Sauté the garlic until the aroma fills the air.

2.

Add the bay leaves and fresh sage. Sauté for 15 seconds.

3.

Add the tomatoes, sugar, salt and pepper. Bring to a boil and simmer for 10–15 minutes.

4.

Stir in the chopped parsley and chiffonade of basil.

5.

Simmer for another 30 minutes, then remove the bay leaves.

6.

To store, pour the sauce into a container, cover, label and refrigerate.
Get All Things Butterball Delivered to Your Inbox
Find Your Broker