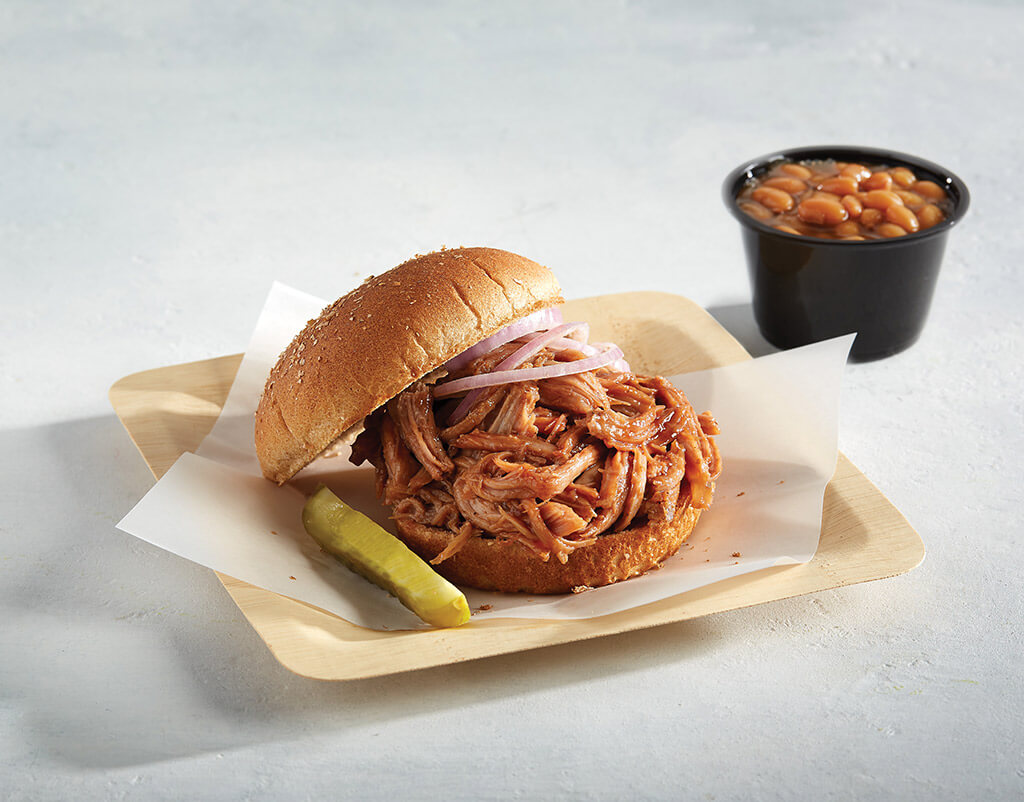 BBQ-Glazed Thigh Roast Sandwich
Juicy shredded turkey thigh roast is the main feature of this sweet and savory sandwich. Along with your favorite BBQ sauce, crunchy pickles and red onions on a toasted whole-wheat bun, it's a deliciously simple way to delight students.
Ingredient
50 Portions
100 Portions
50 Portions 11 lbs. 3 oz.
100 Portions 22 lbs. 6 oz.
50 Portions 5 lbs.
100 Portions 10 lbs.
Red onion, fresh, thin sliced
50 Portions 1 lb.
100 Portions 2 lbs.
50 Portions 2 lbs. 4 oz.
100 Portions 4 lbs. 8 oz.
Thaw Turkey: Thaw turkey in refrigerator for 4-5 days before use. CCP: Hold at 40°F or lower.
Heat and Shred: Preheat oven to 350°F. Line a full 4-inch steamed table pan with a full 4-inch perforated pan. Place three turkey roasts and juices in steam table pans. Using gloved hands, shred turkey removing any fatty pieces. Cover and cook for 30 minutes. Remove from the oven and stir. Place back in the oven and heat for 30 more minutes or until internal temperature reaches 165°F. CCP: Heat to 165 °F or higher for 15 seconds. CCP: Hold at 140 °F or higher.
Drain Excess Juices: Drain excess juices by removing the perforated pan and draining the juices. Stir in BBQ sauce. Spread BBQ turkey on two full sheet pans. Bake in the oven for 12-15 minutes or until BBQ caramelizes on top. Heat to 165° F or higher for 15 seconds. Hold at 140° F or higher.
Toast Buns: Open buns and place on a sheet pan with the tops and bottoms touching the sheet pan. Place in the oven for 4-5 minutes or until buns are toasted.
Build Sandwiches: Place #8 scoop (~4.7 oz wt) BBQ turkey between each bun, top with (about 1 Tbsp) red onion slices, and 3 pickles. For grab n go service, wrap in foil sandwich paper.
CCP: Recommend serving with baked beans or mashed potatoes for an offer vs serve reimbursable meal.
Nutrients per Serving
Show More
Get All Things Butterball Delivered to Your Inbox
Find Your Broker