What's New in Senior Living?
January 2020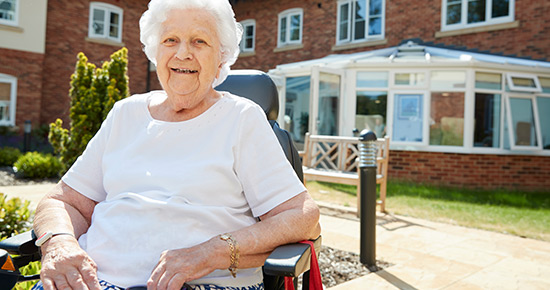 As Baby Boomers retire and move into senior living facilities, they expect to maintain their standard of living. With that in mind, operators are revamping the way they approach this segment by modeling changes after the restaurant and hospitality industries.
Traditionally, senior living facilities consisted of one large dining room where residents would eat at set times and order from a limited menu. Now, many present-day facilities offer full-service or fine dining, fast-casual bistros and bars. Residents have around-the-clock options with snacks, cafés, meal kits and grab n' go markets. Even popular, metropolitan trends, including food trucks, wine bars and specialty coffee kiosks, have been adopted by senior living communities. Operators intend for the modern amenities to appeal to multiple generations and help them feel like they are still part of society, rather than in their own bubble.
Made-to-order is another major shift in senior living. River Landing in Colfax, North Carolina is a facility that diverged from the familiar buffet style of serving and transitioned to á la carte service. Staff found that this increased resident satisfaction immediately, as they had more choices and more say in the food's preparation. Since then, the culinary team has incorporated other opportunities for personalization, such as fresh foods cooked to order. Seasonal and daily menus rotate, and some venues serve weekly specials.
With the explosion of ethnic and regional foods in the broader foodservice space, it's no surprise they've maintained momentum in senior living communities, too. Garden Spot Village in Lancaster, Pennsylvania, for example, draws inspiration from Dutch Mennonite cookbooks. Health-conscious options are also a mainstay, with attention turning toward the MIND Diet, which stands for Mediterranean-DASH Intervention for Neurodegenerative Delay. Its goal is to help prevent memory impairment. Mediterranean foods are largely regarded as healthy, so consider these Mediterranean Turkey Tempters topped with sliced figs and peaches as inspiration.
Even back of house is getting an upgrade. As menus become increasingly sophisticated, the need for skilled chefs is growing. More and more sous chefs and executive chefs make up the cooking staff as recruiters prioritize hospitality experience over that in healthcare. Overall, senior dining has become more chef-driven with food prepared by trained culinary professionals. Servers at these facilities are also instructed to know about the menu and respond to questions as they would in a restaurant. Design-wise, kitchen renovations feature open-display concepts that show off equipment, such as a hearth-style pizza oven.
Lastly, in addition to venue upgrades and culinary advances, technology in senior living has seen major changes. Artificial Intelligence, the technology found in Amazon's Alexa and Apple's Siri, has predictive capabilities that can create consistency by pinpointing community preferences and recipe popularity. Another innovating force is ordering kiosks. Garden Spot Village in New Holland, Pennsylvania lets residents choose their spices and proteins through these digital stations. The system hooks up to TV screens that confirm orders and lets them know when food is ready for pickup or delivery.
For years, senior living mimicked the institutional style of a healthcare model, and now it's aligning with a hospitality setting. The most exciting shift is the widespread recognition of dining as a multifaceted experience, not just a nutritional necessity. This leads to residents getting the diversity of options they've always expected. Every generation has its own specific preferences and needs, so operators should continue to keep their eyes and ears open as this segment transforms.
What changes have you seen in the senior living segment? Share with us on Facebook or LinkedIn. Keep up with the latest trends by browsing our Resource Center.
SOURCES
Next-Generation Senior Living Dining Trends, Senior Housing News, 2019.
Tanyeri, Dana. 5 Trends in Senior Living Foodservice, Foodservice Equipment and Supplies, August 2019.