The Evolution of Turkey
March 2019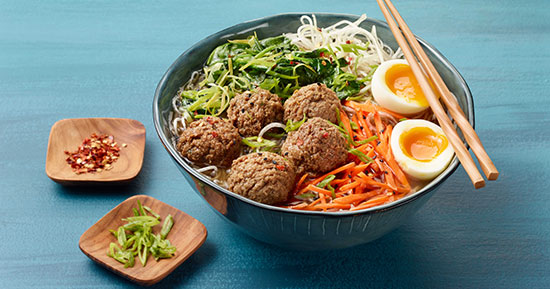 Over time, turkey has had increasingly different uses on menus. Here at Butterball, we've seen significant changes in the preparation and serving of turkey, particularly over the last decade. It's no surprise to us that more and more operators are recognizing that this versatile protein works across all dayparts, menus and foodservice segments.
Nowadays, there's much more flexibility when working with turkey. Chefs are using different methods, from sous vide to smoking and frying, moving beyond typical turkey roasting. Innovations in technology, such as vacuum sealing, have also changed the way chefs work with turkey by making it easier to cook at a constant temperature. Other developments include products that help maintain moisture content.
While often served at lunch and dinner, turkey bacon, turkey sausage and even sliced turkey have infiltrated the morning meal. As chefs focus on this increasingly popular daypart, ready-to-eat products, such as breakfast meats and precooked crumbles, make it easier to prepare turkey.
We've also seen turkey evolve from a classic American protein into a base for international flavors. Turkey offers a familiar ingredient in an otherwise unknown cuisine, making consumers more apt to try it. These ethnic fusions add variety and new flavors to menu selections. Recipes such as Gluten-Free Turkey Ramen and Thanksgiving Fiesta Taco are just two examples.
Changes in health perceptions have further solidified turkey as a key player among proteins. According to Technomic, consumers look for protein when making smarter food choices. Turkey is a better-for-you, gluten-free option that can meet any diner's preferences, from dieters to guests with food sensitivities. As demand for healthier dishes grows and definitions of nutrition evolve, turkey remains a low-calorie alternative to its red meat counterparts.
Turkey is everywhere now, from independents to chains, QSRs to fine dining, stadiums, hospitals, schools and beyond. As they offer higher-quality food, sports stadium concession stands feature turkey as an ideal protein for portable meals. School foodservice directors also serve turkey to meet nutritional requirements and boost participation among students. The foodservice industry across the board has recognized the versatility of turkey, and we expect its usage to continue to grow.
What's next for turkey? It's already starting to move into the snack segment, with retail stores selling turkey jerky and turkey sausage bites, and we think it will further solidify its role in craveable snacks. It's high in protein and low in calories, an ideal light option between meals. With its endless customization, turkey's evolution is far from over.
What changes have you seen in preparing turkey? Share your thoughts with us on Facebook or LinkedIn. For more turkey news and foodservice trends, visit our Resource Center.
SOURCE
Healthy Eating Consumer Trend Report, Technomic, 2018.