Staying Relevant as Customers Work from Home
November 2020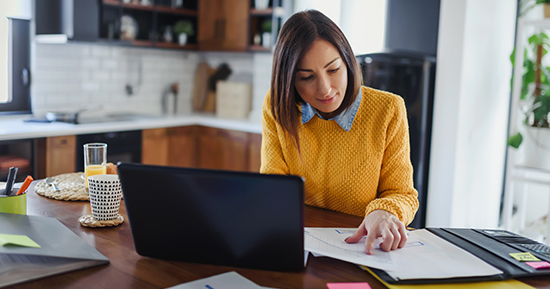 Lunch and happy hours were once key opportunities for attracting the office crowd, but since the onset of COVID-19, many have transitioned to working from home. Previously, a quarter of consumers were buying food or beverages from a restaurant or convenience store every day, and 37% did so several times a week. Since the start of the pandemic, 44% of consumers have been working at home at least some of the time, and more than half have increased how often they make their own breakfast and lunches. Now that people are cooking for themselves as their kitchens are literally around the corner, operators must figure out how to recoup these sales.
One way to lure customers away from home is to emphasize convenience. Service must be speedy, whether that's through grab 'n go or contactless delivery. More important, however, is the taste and quality of the food. Operators need to optimize their menu for off-premise consumption, and diners need to know their order will taste just as good at home as it would when dining in at their favorite venue. That means operators must consider the security and effectiveness of packaging and showcase foods that are travel-friendly and won't change temperatures in the car, such as delivery-friendly pasta salad.
Cost is another area to address. Waiving delivery fees and offering coupons or special deals could motivate diners to order out for their mid-day meal. Local delivery reduces the expenses from third-party apps, helping customers save money and encouraging them to order more often. Lunch specials and other promotions can also counteract additional costs, now that customers can't take a short walk from the office to pick up the food themselves.
To patrons, other encouraging factors to purchase food away from home include healthier options and quick delivery. A quarter of consumers say healthier selections during the day would entice them to order out, and 17% report the same feelings toward smaller portions and lighter fare. Meet their interest with recipes, such as these Turkey Bento Boxes and this Turkey Burger Fajita Salad, that feature turkey, a better-for-you protein with functional health benefits.
As for speedy transport, more than 20% cite a wider variety of grab 'n go meals and fast pickup as reasons that could persuade them to order out. Portability and proximity are top of mind, with 19% saying they'd dine out if food trucks were nearby. Many want to order for several days at a time, another reason why convenience is a must in off-premise strategies. Nearly 20% say they'd like to see increased capabilities in ordering online and in advance.
Working at home presents a number of challenges, particularly for parents who are also helping their kids with virtual learning. Ordering meals from foodservice can give them one less thing to juggle between their jobs and family responsibilities. Consider offering family-sized packages with a variety of nutritious and kid-friendly selections to help alleviate stress.
Beyond the pandemic, turning your attention to remote employees is valuable, as there are people who work from home year-round, and some businesses have decided to go completely remote after experiencing success. As the dine-in part of restaurants remains up the air, the need for convenience is strong no matter where the workplace is.
How do you appeal to customers who work from home? We'd love to know on Facebook or LinkedIn. For all things foodservice, delve into our Resource Center.
SOURCE
COVID-19 Report 33: Life Goes On, Datassential, September 2020.