Middle Eastern Flavors Gain More Momentum
November 2019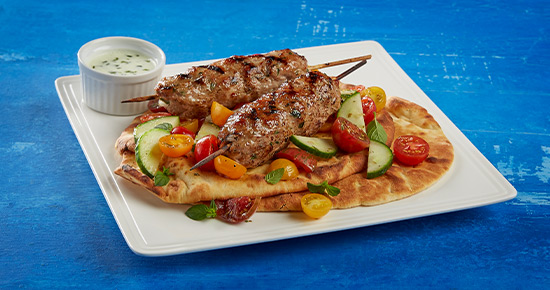 As patrons shift away from mainstream global flavors, operators are finding that Middle Eastern cuisine is the ticket to attracting crowds. Restaurant goers today enjoy dishes that come from Europe and East Asia; yet they're now gravitating towards another region, as 40% of consumers say they would like to try Middle Eastern cuisine.
Part of the appeal of Middle Eastern fare is that it tends to be lighter, as the cultural style of eating often involves sharing smaller plates instead of sticking to one large entrée. It's well suited for health-conscious diners or those looking for scaled-down portions. Operators can adjust the size of these dishes, such as the patron-pleasing kebab, and serve as a starter or main course. This Turkey Kofta is a Lebanese variant of the kebab that makes for a juicy and better-for-you appetizer. These stand-out skewers feature grilled ground turkey mixed with onions and spices, and they pair well with a refreshing roasted garlic sauce.
Changes in flavor trends point toward growing consumer interest in this region. Turmeric and roasted cumin—common spices in Middle Eastern dishes—are the third and fourth quickest rising flavors in the U.S. Meet demand with this Moroccan-Spiced Turkey Salad Sandwich, a next-level lunch featuring notes of cumin, cinnamon, honey and lemon zest. Also consider serving this Turkey Shawarma, a warm pita wrap with roasted turkey breast, tzatziki sauce and a blend of these on-trend spices.
For decades, mom-and-pop-style restaurants dished out authentic Middle Eastern fare. Now, these influences are moving to fine dining and playing to younger, professional crowds. The venues are often trendy and stylish to catch the attention of this demographic. In Chicago, operators have found great success with Mediterranean restaurants. Aba is an upscale restaurant that offers food inspired by the Middle East, Mediterranean and California and it consistently has two-hour wait times. At Galit, which specializes in Israeli cuisine, available reservations are far and few. From simple ingredients and a health appeal to passionate chefs, there are a variety of reasons behind this cultural, culinary boom.
Diners want to experience unique options, and Middle Eastern cuisine opens an avenue for endless creativity. Thanks to its versatility, turkey is a great canvas for highlighting bold flavors and drawing inspiration from all corners of the globe. Consumers are chasing worldwide excitement—and it's never been easier to give it to them.
Does your menu feature Middle Eastern influences? Tell us about it on Facebook or LinkedIn. See what else is resonating with diners in our Resource Center.
SOURCES
Ethnic Food and Beverage Consumer Report, Technomic, July 2018.
Fifty Menu Trends to Watch, Technomic, Q2 2019.
Flavor Trends, Technomic, Q4 2018.
Flavor Trends, Technomic, Q2 2019.
Menu Experts Survey Today's, Tomorrow's Trends, Restaurant Business, May 2019.
Vettel, Phil. Why Middle Eastern food is a growing force in Chicago dining, Chicago Tribune, August 2019.