Mexican Cuisine Heats up K-12 Schools
January 2020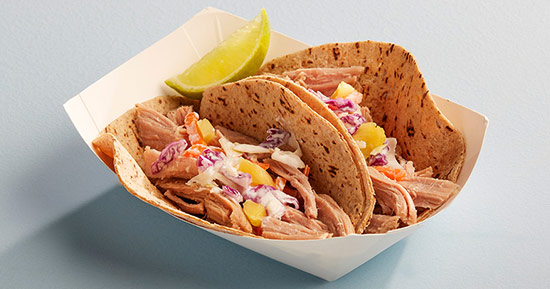 Everyone can use a little spice in their life, and it looks like we don't have to say that twice. Mexican food continues to be a hit among kids and adults alike. In fact, Americans eat 4.5 billion tacos each year, and half of the country's population goes to a Taco Bell once every 11 days! Naturally, K-12 menus take a cue from the restaurant scape, and nearly half of school districts plan to offer new items this school year that feature international flavors. This may result in more schools menuing global cuisine, including Mexican. Taco Tuesdays are already an ongoing thing at all kinds of food joints, even the ones that aren't specifically dedicated to tacos. That's a testament to not only the marketability but also the consumer demand for Mexican fare.
We think the key to a good taco is quality fillings, and turkey makes a great ingredient. Our Jerk Turkey Street Tacos feature well-seasoned turkey thigh roast, topped with pineapple coleslaw on whole wheat tortillas. This particular recipe shares a Caribbean influence, thanks to a generous sprinkle of jerk seasoning. The result is a delicious cultural fusion with a healthful appeal that ought to get the stamp of parent approval.
If you're looking for more Taco Tuesday inspiration for your school, take note from Rialto Unified School District in Rialto, California. They found themselves with extra commodity turkey roast that they needed to use. What was their solution? A Tex-Mex turkey quesadilla. They filled 10-inch tortillas with shredded turkey, cheese and green chile sauce and served it in their elementary school. The turkey quesadilla stirred up a lot of excitement among the young students. The director of nutrition services found that kids were eager to try the new addition, even if they already brought lunch from home.
There are many benefits to menuing ethnic foods in schools. Exposing students to different cuisines paves the way for them to be more adventurous eaters as adults. It can also help to encourage good eating habits. Students might not be able to get the chance to try ethnic foods at home—maybe their parents are too busy to search for unique recipes or get international ingredients from the store. Serving global cuisine, like the fan-favorite Mexican, leads to greater appreciation for diversity, making school meals not just an enjoyable experience but also a learning one.
Let Butterball be your partner in offering insights and culinary trends. For more school solutions, check out our K-12 page.
SOURCES
2019 School Nutrition Trends Report, School Nutrition Association, 2019.
Americans Consume Over 4.5 Billion Tacos Each Year, SouthFloridaReporter.com, October 2018.
Gingerella, Benita. Starting From Scratch, Technomic, November 2019.